---
Table of Contents
---
Ladakh's ever-changing temperature is indeed unpredictable and extreme, especially for those susceptible to cold. But don't worry, the weather in Leh Ladakh offers so much more than harsh cold and dry gusts of wind. The temperature in Ladakh varies from -25°C to 30°C throughout the year. Ladakh welcomes its travellers with a calm atmosphere and ample sunlight, just the right amount to wrap your chilly afternoons in a blanket of its gentle warmth.
You can experience different weather characteristics in Ladakh during different seasons. You can witness the varying weather conditions in Ladakh distinctly, especially during the summers and winters. Winter in Ladakh may seem challenging as the temperature sometimes drops below the freezing point. Whereas, during summers, the entire region gets filled with direct sunlight and leaving it parched.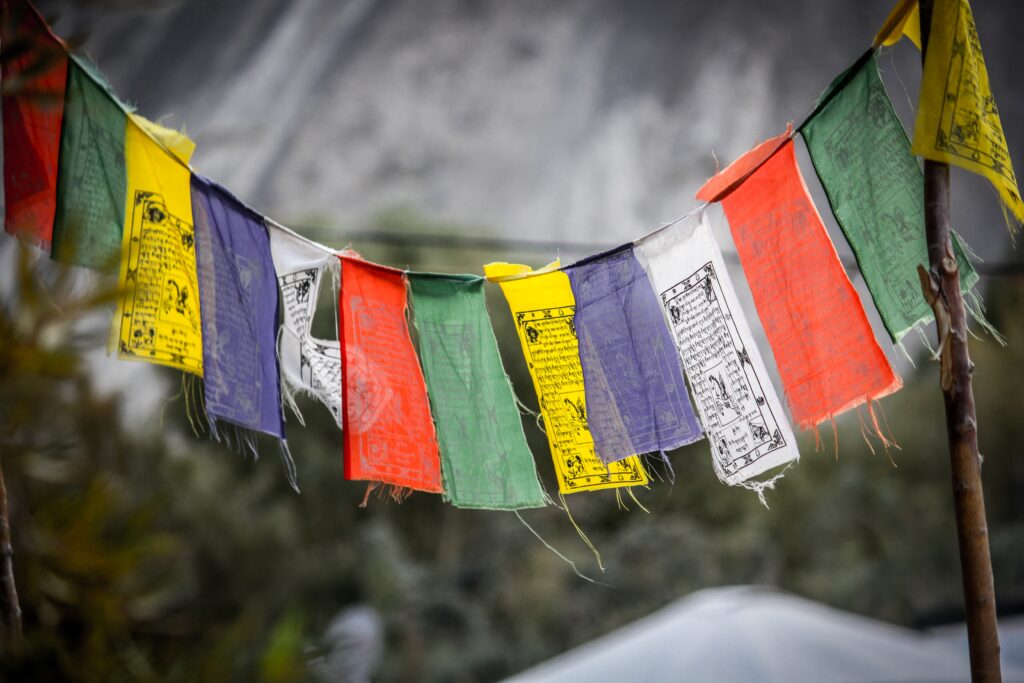 Although Ladakh shows an alternate demeanour in monsoon, light showers and low rainfall are typically observed as the significant zone falls in the rainshadow area. In any case, the streets towards Ladakh turn terrible with avalanches and rock breaks.
Ladakh is undoubtedly one of the most beautiful and serene places globally. Most travellers visit the region during different times or months of the year. Here is a detailed guide on the month-wise temperature of Ladakh so that you can plan your trip accordingly. This guide will also provide insight on what to pack for your stay during different seasons in Ladakh.
The Varying Temperature of Leh Ladakh:
Let us have a look at the average temperature that Ladakh has to offer its tourists throughout the year with other details such as wind history and UV radiation rating:
| | | | | | |
| --- | --- | --- | --- | --- | --- |
| Month | Air Quality History (US AQI) | Wind History (km/h) | UV Radiation Rating | Average Day Temperature | Average Night Temperature |
| January | 11 | 14 | 2 | -15°C | -32°C |
| February | 13 | 15.3 | 2 | -13°C | -29°C |
| March | – | 13.7 | 2 | -9°C | -26°C |
| April | – | 12.4 | 2 | -5°C | -22°C |
| May | – | 10.4 | 2 | -2°C | -16°C |
| June | – | 8.9 | 1 | 2°C | -9°C |
| July | – | 8 | 2 | 7°C | -2°C |
| August | – | 7.9 | 2 | 8°C | -1°C |
| September | – | 8.5 | 2 | 3°C | -7°C |
| October | – | 9.4 | 2 | -4°C | -18°C |
| November | – | 12.7 | 2 | -9°C | -26°C |
| December | – | 13.3 | 2 | -14°C | -30°C |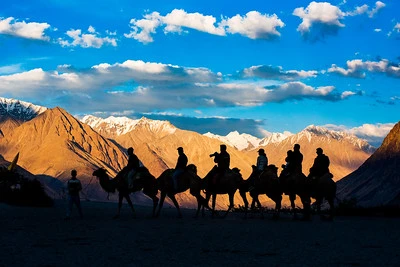 Ladakh is a union territory of India that comprises a piece of the bigger Kashmir area. On the west, it is lined by the Indian-directed association region of Jammu and Kashmir and the Pakistan-controlled Gilgit-Baltistan. The Tibet Autonomous Region lies toward the east of Ladakh. The Indian province of Himachal Pradesh is its southern neighbour. The southwest corner of Xinjiang across the Karakoram Pass lies in the far north. It is stretched out from the Siachen Glacier in the Karakoram reaching toward the north and the Great Himalayas toward the south. The eastern end comprises the uninhabited Aksai Chin fields and is asserted by the Indian Government as a component of Ladakh with an altitude of 3,500 meters in Leh.
Ladakh is a high-altitude cold desert with white sand spread all over the region. The average temperature here in Ladakh reaches 25°C during the day, which drops down to -15°C during the winter, making the surroundings extremely harsh and challenging. It is advisable to take as many warm clothes as possible and wear extra layers during the night as the temperature in Ladakh can drop below zero degrees even during summer nights. Also, carry a sun-block lotion rich in SPF to protect your skin from direct sunlight and harmful rays of the sun during summer days.
The Temperature of Leh Ladakh According to the Changing Seasons:
Summer in Ladakh
Summers in Ladakh range roughly from May to August. Ladakh May temperature rises from 3 degrees Celsius at night to 16°C during the day. As the next month arrives, Ladakh June temperature again fluctuates and goes up to around 21°C during the day.
As we all know, Ladakh is a cold region in general. But during summers, the region experiences direct sunlight, and such exposure can give you sunburns and heat rashes. As July arrives, the temperature in Ladakh goes up to 25°C. The melting of snow caps and a huge rush of tourists from all over the country is generally observed during this time of the year. Summer is the primary tourist season in Ladakh when the days are filled with the soft warmth of the sunlight and gentle breeze. Always remember to apply an ample amount of sunscreen and wear hats, sunglasses, scarves, etc., to get maximum protection from direct heat. You can make the most out of a Ladakh trip during summer because all the places are accessible then. Ladakh offers a magnificent view at this time of the year. You can still catch a glimpse of a snow-capped peak
somewhere between the valleys at higher altitudes. The lakes such as Pangong Tso and Tso Moriri melt during this time and offer a spectacular view of the blue waters.
Popular Activities During Summer Weather in Leh Ladakh
Summer is also the peak time for trekking. You can choose from various trekking options such as Lamayuru to Darcha trek, Lamayuru to Alchi trek or Ripchar Valley trek. You can also try river rafting as summer is the most favourable time for rafting on the Indus and Zanskar rivers. If you want to make your stay all the more memorable, you may participate in the monastery festivals during the summers in Ladakh. There are multiple interesting activities to choose from, such as camel safari at Hunder in Nubra Valley, paragliding, jeep safari and mountain biking, to name a few. If you are travelling to Ladakh by road, consider travelling to the Valley of Kashmir via Kargil. The Hemis Festival is one of the biggest festivals in Ladakh. You can experience the festival in Hemis Monastery if you visit in June. Masked performances and unique music make this experience hard to miss. You can also experience some of the best festivals in summer, such as Saka Dawa, Yuru Kabgyat, to name a few.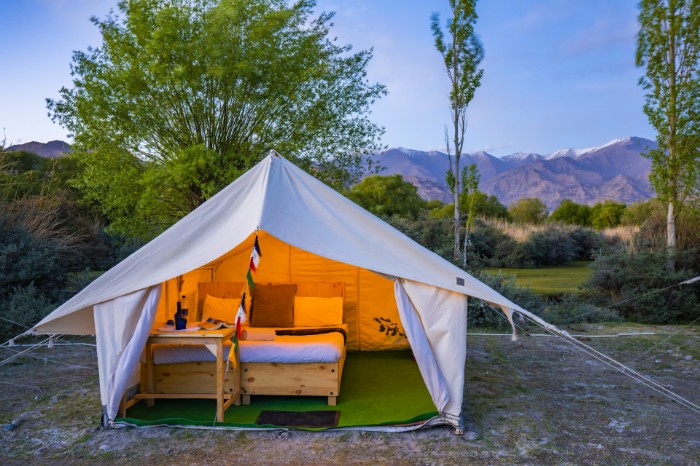 Monsoon in Ladakh
Ladakh falls under the rainshadow area in the trans-Himalayas. It hardly rains in Ladakh, even during the Monsoons. However, slight drizzles with overcast conditions can often be observed during August in Ladakh. Unlike many other popular tourist spots, Monsoon is actually one of the best times to visit Ladakh as it hardly receives much rainfall. There are short bursts of heavy showers, but you will have clear blue skies and crisp air all around most of the time. The temperature ranges from around 10-20°C. The weather is comfortable and refreshing during this time. It is also suitable for sightseeing.
The rainy season in Ladakh lasts for around 1.2 months on average. August receives the most rain with an average rainfall of 0.6 inches, while January has the least rainfall with an average of 0.0 inches. Weather in Leh Ladakh also experiences some variations in seasonal rainfalls.
Listed below are the precipitation history and cloud coverage details of Ladakh.
| | | | |
| --- | --- | --- | --- |
| Month | Precipitation | Cloud Coverage % | Average Rainfall Days |
| January | 9mm (0.4in) | 43 | 1.3 |
| February | 8mm (0.3in) | 46 | 1.1 |
| March | 11mm (0.4in) | 40 | 1.3 |
| April | 9mm (0.4in) | 39 | 1.0 |
| May | 9mm (04in) | 34 | 1.1 |
| June | 4mm (0.2in) | 36 | 0.4 |
| July | 15mm (0.6in) | 31 | 2.1 |
| August | 15mm (0.6in) | 30 | 1.9 |
| September | 9mm (0.4in) | 22 | 1.2 |
| October | 8mm (0.3in) | 26 | 0.4 |
| November | 4mm (0.2in) | 32 | 0.5 |
| December | 5mm (0.2in) | 36 | 0.7 |
Popular Activities During Monsoon Weather in Leh Ladakh
Although Ladakh is a bit challenging during the monsoons, you can indulge in a handful of activities and make your stay here count during this time. You can experience white water rafting on the Zanskar and Indus rivers during the monsoon as the water levels remain higher than normal at this time. You may want to unleash the adventure freak in you and opt for the slightly challenging treks during the monsoon. Some of the most challenging treks include the Markha Valley, the Spituk to Stok, and the Kang Yatse trek. If you are travelling in Ladakh during the monsoons, you won't want to miss out on the popular festivals during this time of the year. The Karsha Gustor Festival, the Korzok Gustor Festival, and the Pheyang Tsedup Festival are significant festivals from July-August.
Spring in Ladakh
Spring is one of the most beautiful seasons to visit Ladakh. You can witness ethereal landscapes during the spring season in Ladakh. The trees are in full bloom, and the snow slowly melts from the mountain peaks, giving the region a breathtakingly picturesque view. Ladakh is famous for its apricot trees in full bloom during this time of the year. Spring usually falls from April to June, with varying temperatures. You can experience enjoyable weather with a gentle breeze and occasional snowfall at the higher altitude regions. Some of the high passes, including Khardung La and Chang La, still remain covered in thick layers of snow. This makes it an experience of a lifetime just to witness them or drive through them during Spring. The frozen lakes of Pangong and Tso Moriri start melting and fill the surroundings with a mesmerising tinge of blue. Ladakh in the Spring is undoubtedly one of the best spectacles of nature. Springtime can also come with common allergens such as tree and grass pollens or animal dander, so check with your doctor if you are prone to allergies. Carry medication if necessary.
Popular Activities during Spring
During Spring, Ladakh bursts in vivid colours. You can do a lot of things during this time as the Weather in Leh Ladakh is extremely pleasant from April to June. You can go for a thrilling bike trip or enjoy watching the hues of blue and red at the Pangong and Tso Moriri lakes. Visit the local villages such as Diskit, Turtuk, Panamic, etc., or pay a quick visit to the Magnetic Hills. You can also enjoy adventure camping at various locations such as Thiksey and Tso Moriri. You can visit one of the best camps in Leh. Or, you could explore the fun side of it by trying out horse riding along the river. Bird watching is another activity that you can indulge in if you are a nature lover.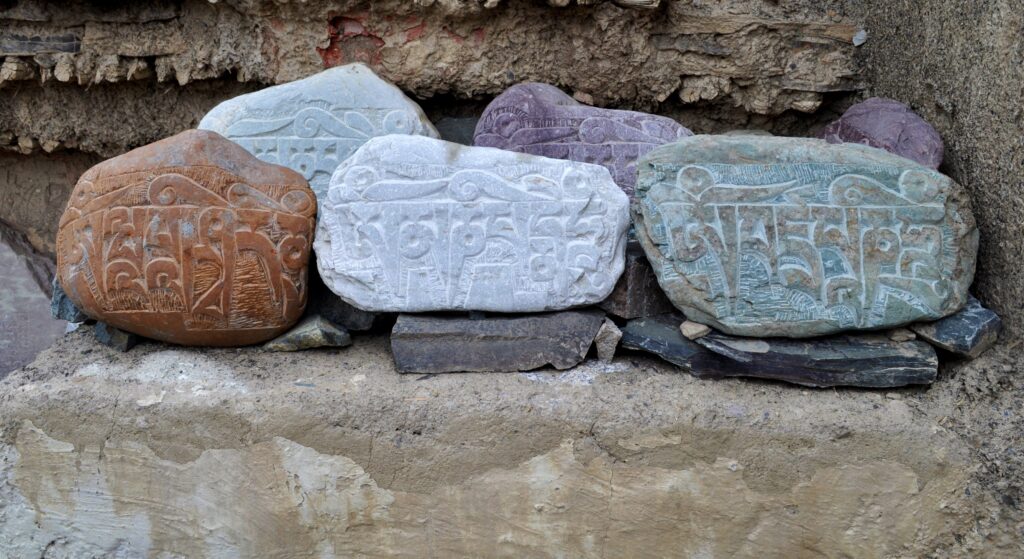 Autumn in Ladakh
Ladakh wears the most beautiful of colours in Autumn. You can witness the dramatic change in the scenery of Ladakh during this time as the leaves turn brown and the trees produce a vivid burst of fall colours. Autumn in Ladakh lasts from October to December, which is some of the best months to visit Ladakh as it marks the end of the tourist season. You can expect fewer tourists around this time. You can embrace the soothing weather of Ladakh as the month of October is slightly cooler than in summer. The temperature stays around 15°C in the daytime. You can experience a gentle breeze amidst the bright and beautiful goldish-brown shades that the trees bless the region with during Autumn. You can slowly feel the magic of travel seething around you with the sweet Autumn sun and a tender flurry of air. Check for allergens if you are prone to allergies before you travel. Carry medication if necessary.
While October feels gentle in Ladakh, it gets colder around November. But you can still travel and have a wonderful experience around this time. The temperature remains moderate, but there might be occasional mild snowfall.
Popular Activities during Autumn
To make your trip to Ladakh memorable during Autumn, you can engage in various activities that occur during this time. Pangong Tso and Tso Moriri are known as the best places for camping. There are a few camping sites available in Nubra Valley. These camps are open in October. The grand festival of Diskit Gustor Festival is also celebrated in Diskit Monastery during the month of October where you can experience the Chaam dance, where you can experience the amazing performances by the Lamas. If you are brave enough to face the cold waters of the Zanskar River, you can also go river rafting there which can be organized by a few tour operators.
If you are looking for some adventure, you can quickly drop by the Zanskar Virgin Valley. The place is known for its distinct and breathtaking topography. It is considered one of the coldest places in Ladakh. You can click beautiful pictures of the high passes and the lush meadows of the picturesque valley.
If you are thinking of taking it up a notch and doing something adventurous, then you can go mountaineering, cycle along the trails, or play polo in the awesome Weather in Leh Ladakh.
Winter in Ladakh
You may already know that the weather in Leh Ladakh becomes extremely harsh in the winter. January is considered the coldest month, with an average temperature of -3 degrees Celsius during the day, which can drop to -15°C during the night. In Ladakh, the winter falls early, from September to November. Although Ladakh's temperature in winter is immensely challenging and harsh, the early period can still be considered tolerable. The temperature ranges between 20-22°C and remains moderate during the daytime.
Then comes the frosty winter from December to February when the entire region freezes and the temperature falls to -20 to -10°C. The region experiences heavy snowfall, and the roads and highways get blocked. Everything around you is wrapped in a blanket of snow and ice, you can't help but admire the beauty all around.
As February arrives, it brings a sigh of relief. Moving towards March, the temperature rises up to 10°C. A little snowfall now and then can be observed. The roads start to unblock, and travellers start crowding the streets of Leh-Ladakh. April receives the highest snowfall for around 20 days and typically aggregates up to 301 mm (11.85″) of snow.
Listed below are the month-wise data of the snowfall history of Ladakh.
| | |
| --- | --- |
| Month | Average Snowfall |
| January | 1.8" |
| February | 2.3" |
| March | 2.2" |
| April | 0.5" |
| May | 0.1" |
| June | 0.0' |
| July | 0.0' |
| August | 0.0' |
| September | 0.0' |
| October | 0.3" |
| November | 0.9" |
| December | 1.8" |
Popular Activities during Winter Weather in Leh Ladakh
You can visit popular places like the Nubra Valley, Tso Moriri Lake, Pangong Lake, etc., during the winter. If you are there during the winter, you must not miss the major festivals during this time. Witness and participate in the most significant monastery festivals such as the Spituk Gustor festival, Guru Tsechu festival, or Matho Nagrang festival. You may also want to try famous winter sports like ice hockey, ice climbing, and ice skating. It is also the season of the famous Chadar trek. The Chadar trek usually commences from mid-January to mid-March. If you visit Ladakh during this time, definitely take the Chadar trek on the frozen Zanskar River and make memories of a lifetime. If you get lucky, you might catch a glimpse of the snow leopard that can be rarely seen roaming around the valleys, searching for food.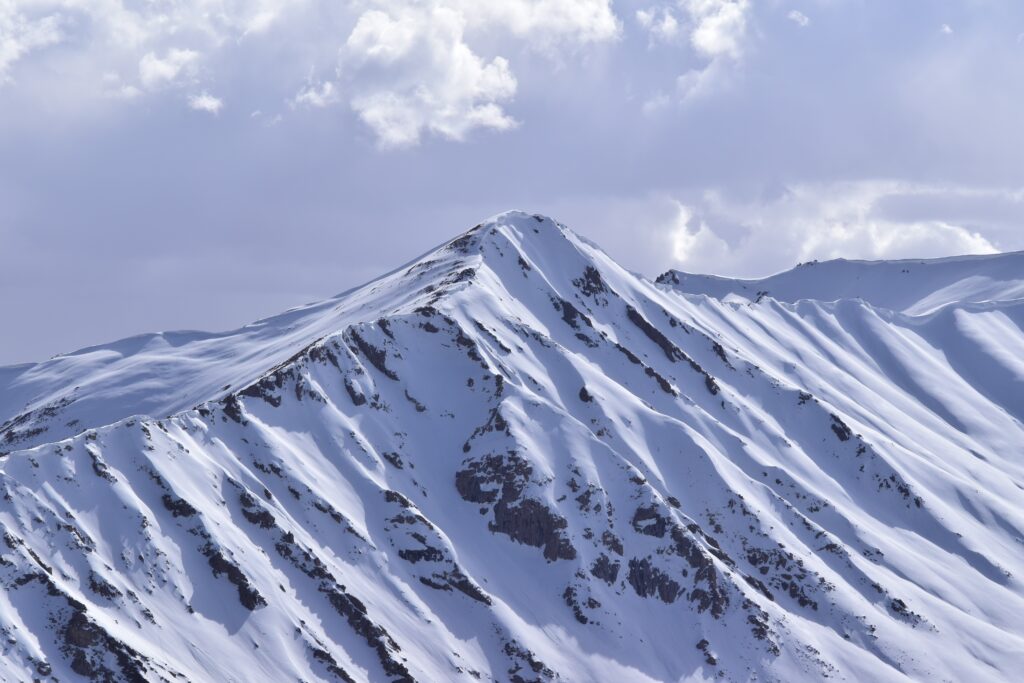 Some Useful Tips to Keep in Mind While Travelling to Ladakh
Climate
Since it is always cold in Ladakh, even during Summer, travellers should keep themselves warm enough to withstand the harsh cold during the months of November to March. Don't forget to carry extra warm apparel like jackets, fuzzy socks, gumboots, woollen gloves, and heavy blankets. If you are susceptible to cold, then it may not be a good idea to visit Ladakh during the said months. Instead, you can plan for a trip to Ladakh during Summer, from April to June, when you can get some sunshine and warmth in the region. No matter when you are visiting Ladakh, it is always advisable to carry warm clothes and blankets. Ladakh falls in the greater part of the high-altitude mountain ranges of the Himalayas, and the region experiences a cold desert-type climate all around the year.
Acute Mountain Sickness
You need to be prepared for acute mountain sickness during your first visit to Ladakh or any high-altitude mountain region. It is extremely important to consult your doctor and carry medicines as prescribed by the doctor. AMS or Acute Mountain Sickness can cause breathlessness, nausea, headache, and lack of appetite. In some cases, AMS can get fatal and cause coma or death. Always carry a personal first aid kit consisting of medicines, bandages, ointments, thermometer, etc., in case you get stuck somewhere and need immediate medical assistance. The altitude and weather conditions are very different from any other city in India. Make sure to rest the first day so that your body can get used to the changes in the weather and altitude.
Mountain Biking
High-altitude mountain biking is one of the most adventurous activities you can experience in Ladakh. While opting for mountain biking, do remember to take a few precautions to stay safe. It is advisable to bring your helmet and wear it at all times. Also, wear gumboots, hand gloves, and jerkins while driving. You may bring knee, elbow, and kidney guards for extra layers of safety.
Accommodation
If you plan your trip to Ladakh from March to June, pre-book your place of stay in advance. It will be difficult to find a place on short notice during the peak tourist season. Do not expect luxury stays in Ladakh. Instead, you can find standard yet cosy accommodations amidst the mountains with good hospitality. It is advisable to book a hotel before your visit. Don't take the hassle of finding a hotel after you reach there, as it will be almost impossible for you to find a vacant room during this time. So, plan your trip beforehand and book a hotel accordingly.
Transport
You can get lots of buses and private vehicles available for intra-city transport. But due to unpredictable weather conditions, bus services often get interrupted. You can easily avail yourself of a private vehicle for ease of transportation at Leh that will connect you to the major attractions of Ladakh.
Landslides, roadblocks, and snow slides are very common in the Himalayan region, including Ladakh. You must be prepared to witness that and get stuck for a few days due to such natural events. Keep one or two buffer days travelling to Ladakh, as your trip may get extended or delayed due to such occurrences, which are quite common in the Himalayan region.
The Coldest Month in Weather in Leh Ladakh
January is considered the coldest month in Ladakh when the temperature drops to -3°C in the daytime and -15°C at night. Travelling in Ladakh around this time is a beautiful experience as you can feel the warmth of the soft winter sun and the dry flurry of wind swirling all over the region.
The Average Amount of Rainfall in Leh Ladakh
Ladakh is a high-altitude cold desert where the weather mostly remains dry and chilly. It hardly rains in Ladakh. The average amount of rainfall is 106 mm in Ladakh per year. Ladakh only has 13 rainfall days a year. Hence, water is a precious resource for the residents.
The Driest and Warmest Months in Ladakh
The months from June to October mark the driest period in Ladakh as these months hardly have half a day of rainfall per month. The weather becomes extremely dry during this time.
July is considered the warmest month as the temperature rises to 25°C in the daytime and drops to 10°C at night.
The Moistest Month in Weather in Leh Ladakh
July and August are considered the moistest months in Ladakh. Although the average rainfall per month is only two days during these months, these months still experience more rainfall than the other months in Ladakh when the region becomes extremely dry.
Month-wise Summary of Weather in Leh Ladakh
January and February – With constant snowfalls and freezing temperatures, these months are the extremely coldest in Ladakh. Temperatures drop down to up to -15°C or even below. However, these two months are ideal for trekking. There are multiple trek options available such as Chadar, Zanskar, and Snow Leopard treks. Various festivals are also held during January and February. However, the number of tourists is very few as adaptation and survival become quite challenging during these two months. You can always check your options and plan accordingly before you travel.
March – Even though the weather gets a little better compared to the previous months, it is still quite chilly in Ladakh. The temperature rises up to 6°C during the days when the sun is out, but the nights remain chilly when the temperature drops to almost -5°C. Flights are the only option to reach Ladakh as the highways still remain closed due to the snow.
April – Heavy snowfalls stop during April, and it marks the onset of summer in Ladakh. However, the mountains are still covered in snow during April, and the lake gradually begins to melt by the end of this month. Even though you can experience clear skies during April, you still need to carry a lot of warm clothes to be comfortable.
May – The days are bright and shiny with temperatures reaching up to 16°C, but you can still feel the chill in the air. The Leh highway opens up but remains slippery as the snow starts melting. The best way to reach is by air travel as few roads will still be closed during this time.
June – This is the best time to visit Ladakh. The roads open up by early June and the Srinagar-Leh and Manali-Leh highways become accessible. The temperature rises up to 21°C during the daytime. However, the nights still remain chilly as the temperature dips to almost 7°C. Most of the treks and expeditions begin during this time.
July and August – The weather is quite comfortable, and Ladakh is in its full glory, offering a picturesque view at this time of the year. All the roads are completely open and accessible. Carry your comfortable woollens if you are travelling around mid-August as it starts getting cold again. If you are travelling from Manali or Srinagar, start early to avoid the traffic at Rohtang Pass and Sonmarg, respectively, as most tourists travel during this time.
September – This is the month when you can experience the best of Ladakh with fewer tourists around you. The sun can get quite strong during the daytime, and temperatures rise up to 21°C, but the nights are pleasant, and the temperature is around 6°C. Ladakh is extremely picturesque during this time, with the lakes glistening from sunshine. You might also experience snowfall if you reach higher up towards Chang La and Khardung La.
October – With winters in full swing, the roads are often covered with snow but are open for travel. You can experience snowfall in high-altitude areas. October is the perfect month to travel for adventure seekers. Diskit festival is also held during October, which is truly a sight to behold. During the daytime, the temperature is around 13-14°C, whereas it dips to 0°C or even below during the night.
November – All highways and roads are closed during November as it is completely winter month, and you can see snow all around you. The maximum temperature goes up to 7°C, whereas the minimum can dip to -6°C. You can see the frozen lakes at this time. You might also experience some water and electricity problems during November. Padum and Thiksey festivals are held in November.
December – It is one of the coldest months of the year, with temperatures dipping to -15°C. Due to this extreme weather, there are hardly any tourists in Ladakh during December. All highways and roads are closed due to heavy snow. The lakes and rivers are covered with a thick layer of ice. The two popular festivals during December are Golden Namchot and Losar.
Conclusion
No matter what time it is, Ladakh remains beautiful throughout the year. The picturesque beauty of Ladakh cannot be captured in a few lines. If you are a travel enthusiast who loves adventure as well as the serene beauty of nature, then Ladakh is the right place for you. You can visit Ladakh any time if you are travelling by air. If you want to make a road trip in Ladakh, June to September is the best time to go as all roads and highways are open.
Hurry up and pack your bags to live the most wonderful travel experience of your life. If you are confused about when to plan a trip to Ladakh, do not hesitate to reach out to us as we will ensure you a safe, sustainable, and memorable travel experience that you will cherish for the rest of your life.
FAQs for Weather in Leh Ladakh
Q: Is there snowfall in Leh?
A: Yes, there is snowfall in Leh during the winter season. The average temperature during this time is between -10 and 0 degrees Celsius.
Q: What is the best time to visit Leh Ladakh?
A: The best time to visit Leh Ladakh is from May to September, when the weather is pleasant and ideal for sightseeing. During this period, the average temperature ranges from 16-20 degrees Celsius.
Q: What are some weather hazards in Leh?
A: Some of the weather hazards in Leh include flash floods, landslides, avalanches, and extreme cold. It's important to be aware of these potential hazards and take the necessary precautions when travelling in the region.
Q: Which month is best for Ladakh?
A: The months of May to September are the ideal times to visit Ladakh, as they offer pleasant weather and clear skies. This is also the best time for sightseeing and trekking.
Q: Are there any weather-dependent attractions in Leh?
A: Yes, there are many weather-dependent attractions in Leh, such as frozen lakes, snow-clad mountains, and snowfall. It's best to try and plan your trip around the favourable weather conditions for these attractions.
Q: Is there snowfall in Leh now?
A: The amount of snowfall in Leh depends on the season. During winter, there is usually considerable snowfall, while during summer and spring, there is usually little to no snow.
Q: How cold is Leh in winter?
A: The average temperature in Leh during winter is between -20 and -5 degrees Celsius. It can sometimes get very cold, so it's important to be prepared with the right clothing and gear if you plan to visit during this period.
Q: What is the average temperature in Leh?
A: The average temperature in Leh varies throughout the year, ranging between -20 and 30 degrees Celsius. During summer, the average temperature is generally around 16-20 degrees Celsius. During winter, the average temperature is usually between -15 and -5 degrees Celsius.