Looking for useful tips for camping in Ladakh. Ladakh is an exquisite region found in the northernmost area of India, encircled by majestic Himalayas and breathtaking Karakoram mountain ranges.
Ladakh is renowned for its breathtaking scenery, distinctive culture, and thrilling outdoor activities – making it a sought-after destination for camping lovers from every corner of the globe.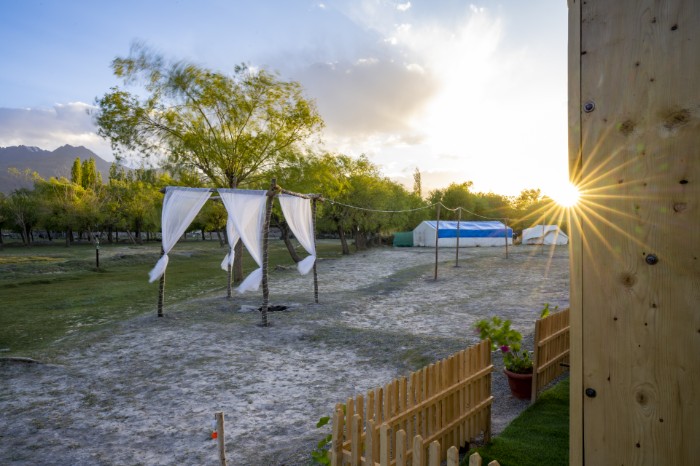 Regardless of whether this is your first time camping in Ladakh or you're an experienced camper, the region has something for everyone.
From basic tent camping to deluxe glamping experiences, there's no shortage of incredible options available!
This guide will equip you with the essential knowledge to plan exceptional camping in Ladakh, from when and how to arrive at the destination to selecting suitable equipment for setting up a secure camp.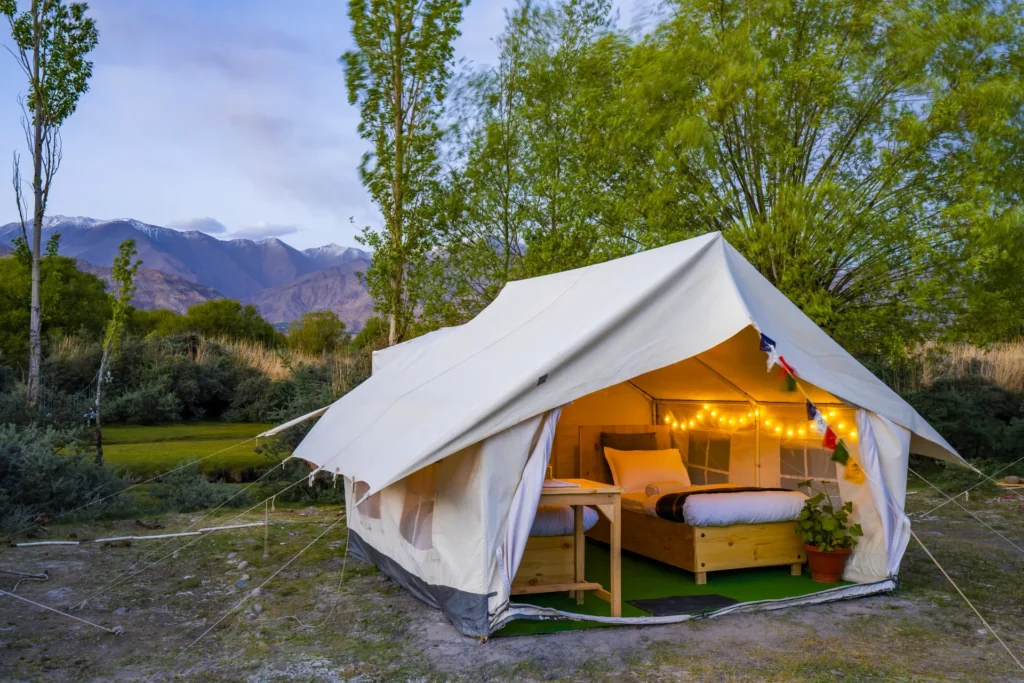 With this information, your journey is sure to be extraordinary! So, gear up to embark on a memorable journey and explore one of the world's grandest and most isolated regions!
Grab your bags, throw them in your tent, and you are all set for incredible camping in Ladakh adventure.
A brief overview of Leh Ladakh as a camping destination
Ladakh is a much sought-after destination for campers, offering awe-inspiring panoramas and rich cultural experiences.
This stunning paradise's unparalleled beauty will captivate your spirit and inspire lifelong memories.
Embedded in India's northernmost region, Ladakh is a paradise for travellers, boasting mesmerizing high-altitude deserts, captivating crystal-clear lakes, majestic mountains as far as the eye can see and an abundance of cultural heritage. A must-visit destination!
Experiencing the wilderness of camping in Ladakh provides a much-needed escape from everyday city life, granting you an awe-inspiring connection with nature like never before. For those craving an adrenaline-filled escapade or a peaceful repose,
Ladakh offers something for every type of traveller. With its unforgiving yet stunning landscapes, this destination is the perfect spot to satisfy your wanderlust and quench your thirst for exploration.
Leh Ladakh is a camping destination like no other, boasting lush natural landscapes and unforgettable cultural experiences.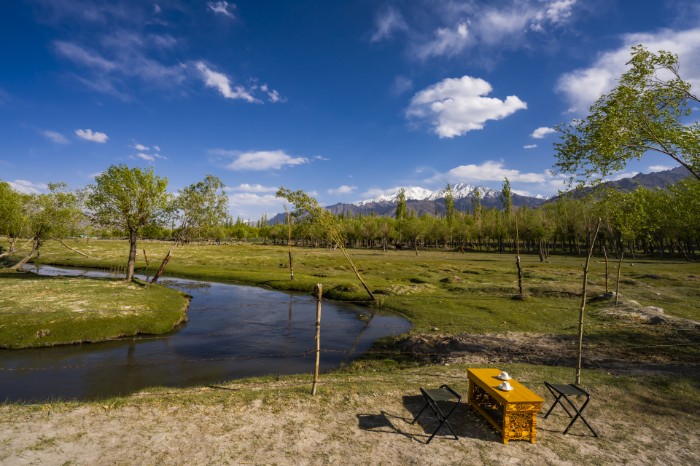 Why Leh Ladakh is a popular destination for camping
Ladakh has become a beloved destination for camping because of its many advantages, ranging from the following:
Scenic beauty: Ladakh is a stunning destination; its breathtaking vistas of snow-enveloped mountains, icy rivers, and expansive deserts provide the perfect setting for amazing camping in Ladakh experience.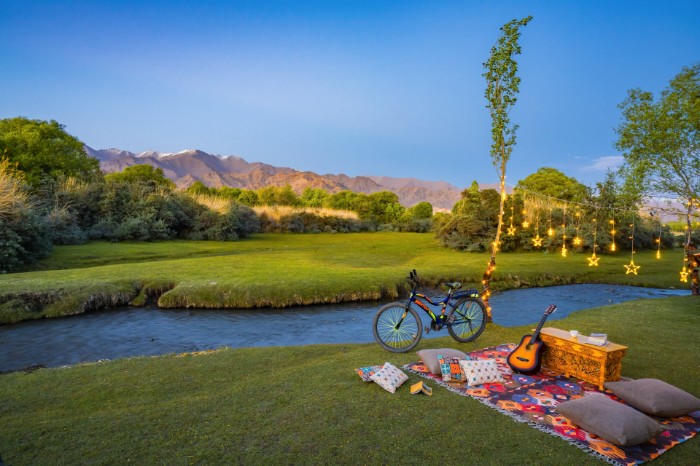 Adventure activities: Ladakh offers a plethora of adrenaline-pumping activities such as trekking, river rafting, mountain biking, and rock climbing. These activities are exciting and will make a lasting memory for people who love adventure.
Cultural experiences: Ladakh offers an incomparable travel experience, boasting a rich history and unique cultural heritage. The region boasts Buddhist monasteries, quaint villages and magnificent palaces that paint a vivid picture of its vibrant cultural heritage.
Weather: The perfect conditions for camping in Ladakh when the summer months arrive. With its cool and dry climate, you can enjoy a plethora of activities outdoors!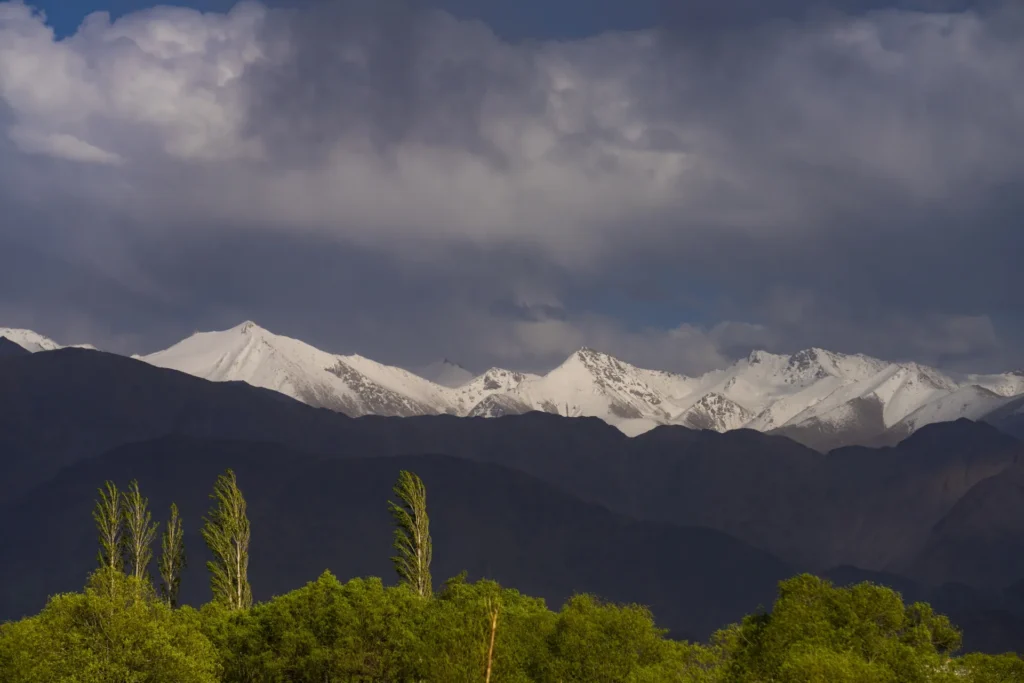 Offbeat destination: Ladakh is a secluded getaway that awaits your discovery! Seeking a one-of-a-kind journey in a place far from the hustle and bustle? This is the perfect spot for your vacation.
The purpose of the guide
With this guide, we aim to give travellers all the information they need for a successful camping trip in Leh.
This guide is designed to provide all the critical details necessary for travellers planning secure and remarkable for camping in Ladakh, making it easy to experience this stunning region.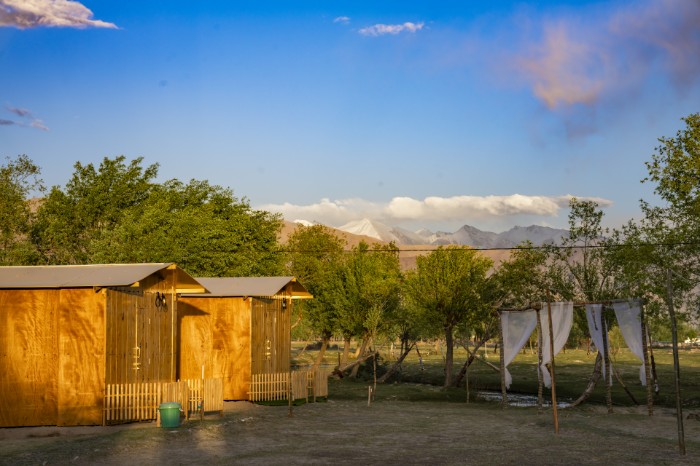 From making preparations to selecting the perfect equipment and supplies, constructing a cosy campsite, staying safe and healthy on your travels, scouting the region around you and camping with care- this guide covers it all.
Let this guide be your source of inspiration for planning the ultimate camping vacation to Leh Ladakh. Follow our tips and recommendations, and you'll make memories that will last a lifetime!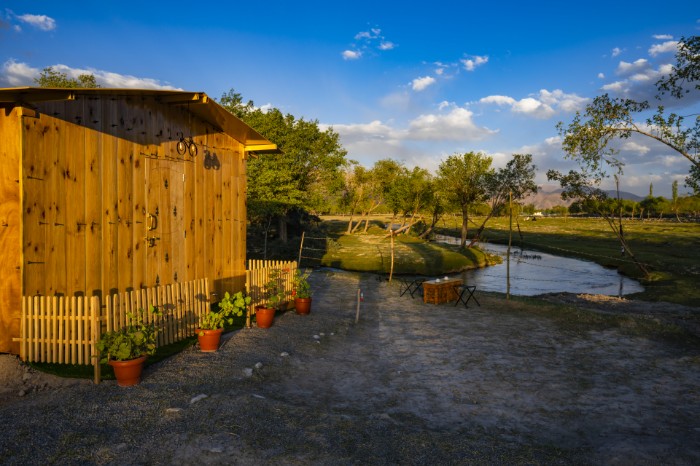 Planning your trip to Ladakh camping
Organizing a camp holiday in Leh can be stressful and exhausting. To make sure your trip runs smoothly, it is important to do a bit of research beforehand.
Before you embark on your journey, consider the following items below to arm yourself with essential information.
Best time to visit Leh Ladakh for camping
Ladakh is the perfect destination for camp during summer, from May to September. Its mild temperatures make it a dream come true for outdoor enthusiasts; during the day you'll experience highs of 15°C-30°C and at night, get ready for an inviting 5°C-10°C. It truly is an idyllic place to take in all that nature has to offer!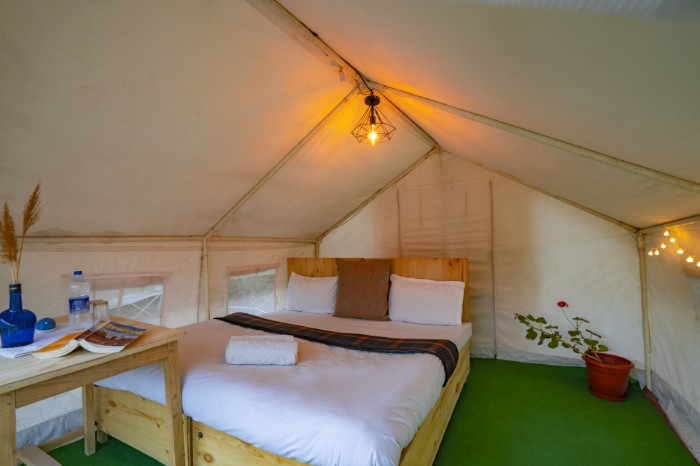 How to get to Leh Ladakh
Embarking on the journey to Ladakh, a remote area situated in India's northernmost region can be an adventure on its own. There are several ways you can travel to this majestic destination which include:
By Air: The best way to get to Ladakh is by plane. There is an airport in Leh that has flights from big cities like Delhi, Mumbai, and Srinagar. When you get there, you can take a taxi or a local bus to go where you need to go.
By Road: Ladakh is part of India, but it is not easy to get there. The roads are very steep and windy. It can be hard to breathe because the air is thin at such a high altitude. The most common way to get there is through the Leh-Srinagar Highway or the Leh-Manali Highway.
By Rail: There is no train that goes directly to Leh Ladakh. The closest train station is Jammu Tawi which is far away, about 700 km. To get to Ladakh from there, you can take a taxi or a bus.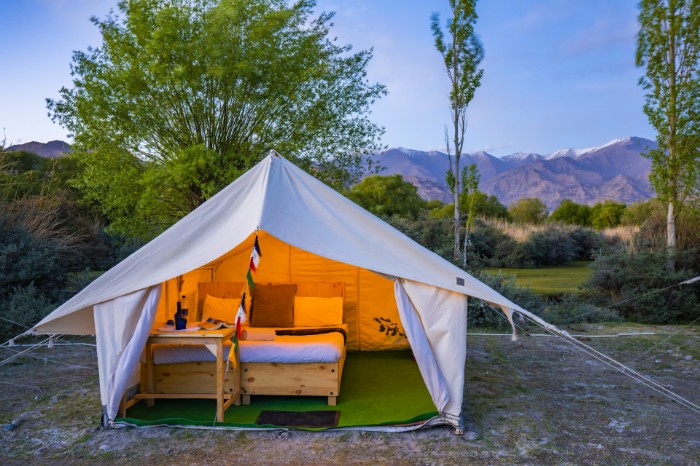 It is important to remember that the roads to Ladakh are closed in winter because of the snow. Before you plan your trip, make sure you check if the roads are open.
Permits and regulations for camping in Ladakh
During Ladakh camping, travellers must be aware of the area's strategic and cultural importance, thus requiring that they acquire permits from local authorities before embarking on their journey. Here are some regulations to keep in mind:
Inner Line Permit (ILP): People who are not from Jammu and Kashmir need a special permit called the Inner Line Permit to travel to certain places in Ladakh. These places include Nubra Valley, Pangong Lake, and Tso Moriri. You can get the ILP online or from the Deputy Commissioner's Office in Leh.
Protected Area Permit (PAP): If you are not from India and want to visit certain places in Ladakh, like Tso Moriri, Tso Kar, or Pangong Lake, you will need a special permit called the Protected Area Permit. You can get this permit at the Foreigners' Registration Office in Leh through a travel agent.
Camping Regulations: If you go camping in Ladakh, you have to follow some rules. You can only camp in the places that are okayed by the government. Don't damage nature or throw away your trash – take it with you! And don't make a bonfire everywhere.
Environmental Fee: Tourists must compensate the local regulatory body with an environmental fee in order to camp in certain areas of Ladakh. The magnitude of this cost varies based on the duration and location of your camping in Ladakh trip.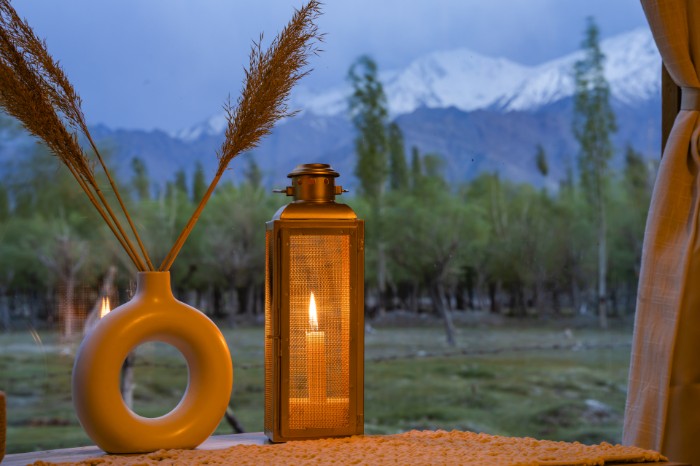 Choosing the right camp in the Ladakh
Making the optimal decision for your camp spot in Ladakh is essential to guarantee a secure and cosy experience. Here are some vital components to bear in mind when opting for the perfect camp:
Accessibility: To make your camp experience as enjoyable and stress-free as possible, pick a spot that is easily accessible and close to all of the activities you are planning. Stay away from places that are too secluded or hard to get to if you're not familiar with the area.
Terrain: Seek out a flat, level land to set up your tent. Rocky or otherwise uneven ground can make it tough to pitch the tent and uncomfortable for sleeping, so try to stay away from those situations.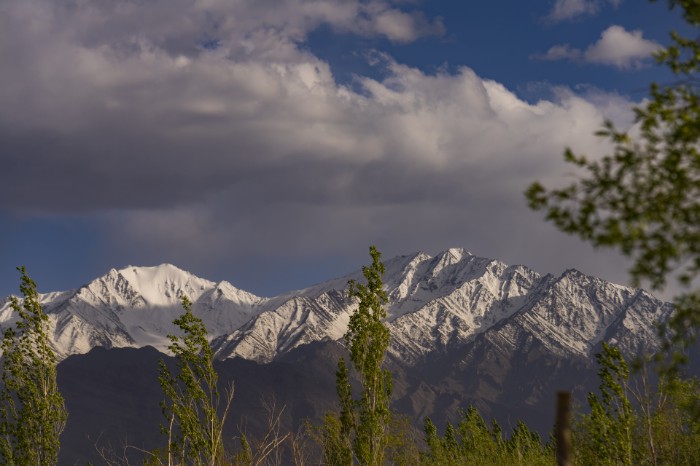 Water source: When you're looking for a suitable camp, seek out one that's close to a trustworthy water source such as a stream or river. To be safe and healthy, however, make sure the water is purified before using it for cooking or drinking!
Wind protection: When selecting a camp, be sure to select one that is sheltered from gusty winds. Avoid camping in wide-open areas or atop high hills—these locations are often excessively windy and can make your stay unbearable!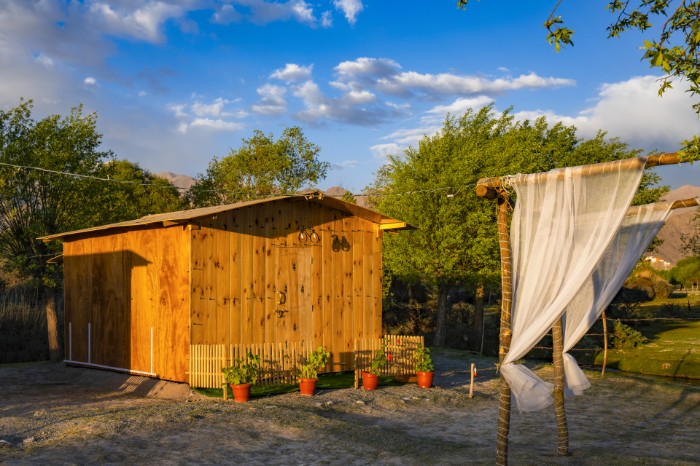 Privacy: Seek out a secluded and private camp to ensure optimal peace and quiet. Steer clear of popular camping spots or crowded trails, as these areas are often noisy and disruptive.
Environmental impact: Select a camp that has the least effect on nature. Refrain from inhabiting places already affected or ruined, and apply to Leave No Trace rules to reduce your impact on the environment.
Camping in Ladakh is a popular choice for people who want to see nature there. You can find a camping site that fits your needs from all the options available.
Most of the camps in Ladakh are close to lakes or rivers, so you can do things like kayaking, fishing and hiking outdoors. Camps in Ladakh are often in really pretty places.
You can see awesome mountains and valleys from the camp.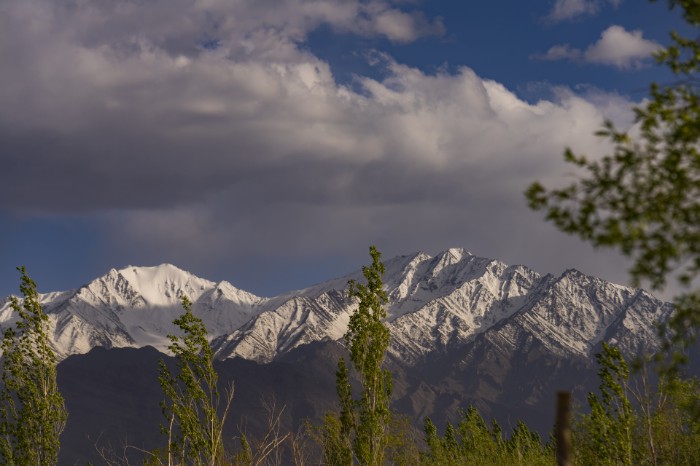 When you stay in camps in Ladakh, you can learn about the culture there. The camp offers food, music, and handicrafts that are traditional to Ladakh. You can get to know the traditions and customs of Ladakh by doing this.
Camps in Ladakh are a great way to take a break from city life. There is no TV, internet, or other distractions so you can relax and get some rest.
You can go by yourself or with someone else. Book your trip today and find out why camping in Ladakh is so special!
Essential gear and equipment
Essential gear and equipment are a necessity while camping in Leh. In order to ensure a safe and enjoyable experience, campers must make sure to bring the right supplies and equipment such as a sturdy tent, sleeping bags, warm clothes, rain gear, flashlights, and first-aid kits.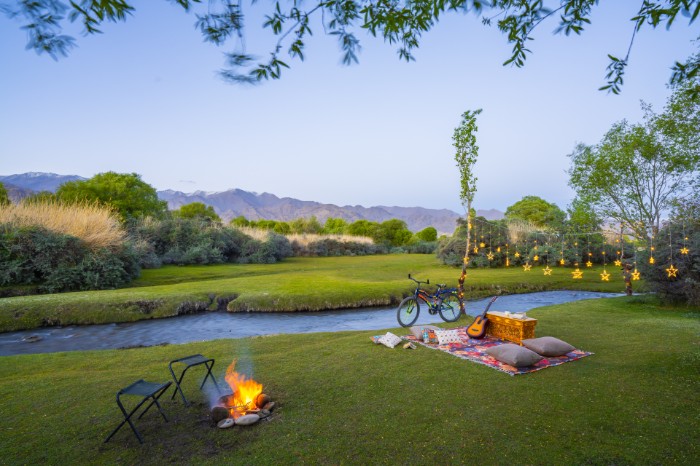 Checklist of essential gear for Camping in Ladakh
To guarantee a secure and pleasant camping experience in Leh Ladakh, it's crucial to bring the right equipment. Here is an inventory of must-have gear for any camp trip:
Tent: For camping in Ladakh, it is absolutely essential to find a tent that can withstand any changes in weather and keep you dry. Make certain the size of your tent corresponds with the number of people travelling with you so that everyone remains comfortable during their stay.
Sleeping bag: When temperatures in Ladakh dip, a cosy and secure sleeping bag is key for getting that much-needed restful night's sleep.
Sleeping pad: A sleeping pad gives you an extra layer of insulation from the cold ground and makes your snoozing setup much more comfortable.
Backpack: When you go camping, you need a strong backpack that is comfortable to wear. The backpack should be big enough for all your supplies like food and water.
Clothing: When you dress, wear several layers of clothing. Pack a down jacket, fleece, thermal wear and rain gear in your bag. This will keep you warm and dry.
Footwear: When you go hiking, wear strong boots that won't let water in and will help you stay on the rocky ground.
Headlamp/flashlight: A headlamp or flashlight is very important when you are camping at night. It will help you see where you are going and find your way around the camp.
Water filter/purification tablets: You need a water filter or purification tablets to make water from lakes, rivers, and streams safe to drink. This helps stop you from getting sick.
Cooking gear: Bring a small and light stove, fuel, pots and pans for cooking when you go camping.
First aid kit: A first aid kit is important. It should have medicines, bandages, and antiseptics in it. This can help you if something bad happens.
Sun protection: To guard yourself against the intense UV rays at lofty heights, always make sure to bring along sunscreen, shades and a hat.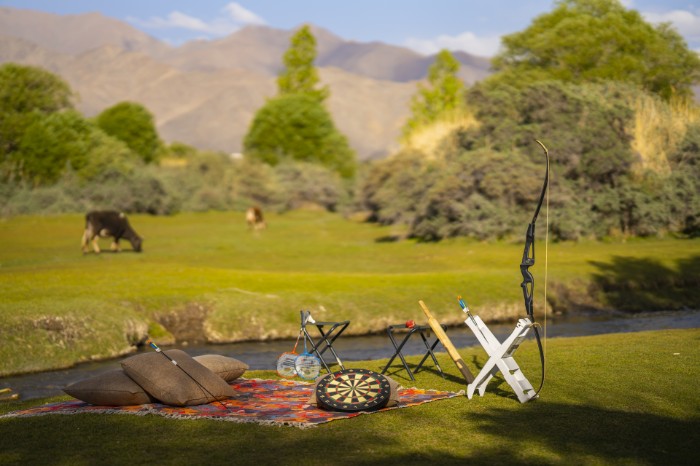 Recommended clothing and footwear
Heading to Ladakh for a camping trip? Make sure you have the right clothes and shoes with you! Climbing up at a high altitude can be tough, so make sure your outfit is comfortable and secure. Here are some of our top suggestions:
Clothing:
Layers: When you go to Leh Ladakh, the weather can change quickly. Wear clothes that will keep you warm or cool. Wear a layer next to your skin that helps it breathe, then a thick layer over that to keep you warm, and lastly an outer layer that is waterproof and windproof.
Down jacket: A down jacket is very important if you are going to Ladakh. It will keep you warm in the cold weather.
Fleece: It is a good idea to wear something warm and lightweight like fleece. It will help keep you warm.
Thermal wear: Thermal wear can help keep you warm and comfortable, especially during the night when it is cold.
Rain gear: A waterproof and breathable rain jacket and pants can keep you dry when it is raining or snowing.
Hat and gloves: If it's cold outside, wear a hat and gloves to keep your head and hands warm.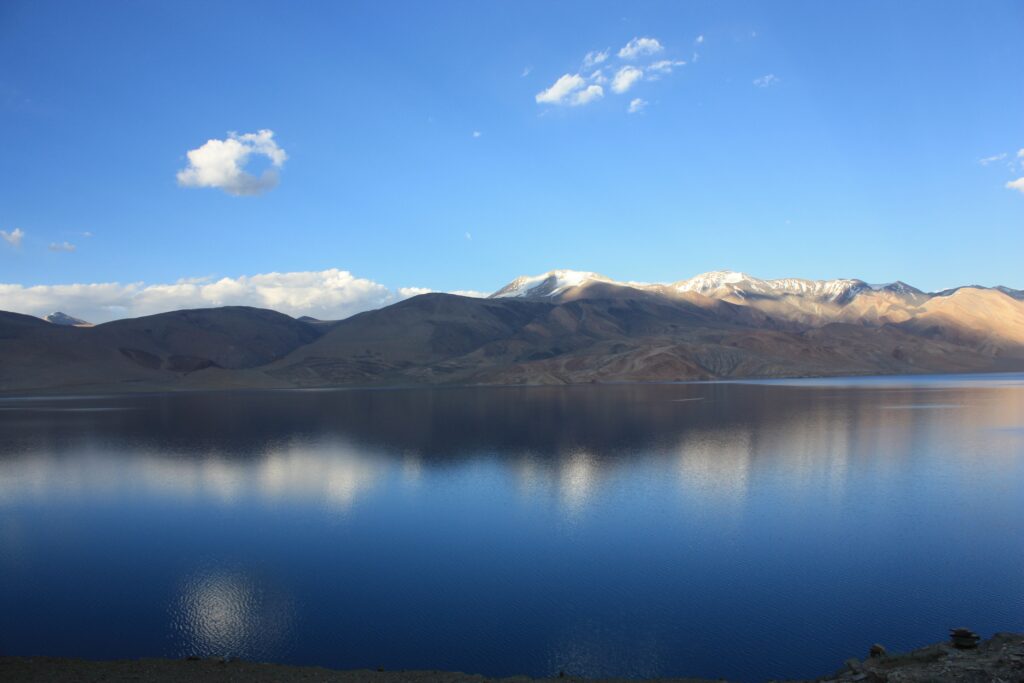 Footwear:
Hiking boots: When you go to Ladakh, bring sturdy boots that won't get wet. Make sure they have a good grip so you don't slip on the rocks.
Socks: Wear socks that will help keep your feet dry and warm.
Acclimatization to high altitude
Acclimatization to high altitudes is crucial for camping in Ladakh, as the area is located at an altitude of over 11,000 feet above sea level. Here are some tips to help you acclimatize to the high altitude:
Take it slow: When you go to a higher place, take it slowly. Don't do too much on the first day. This will give your body time to get used to the new altitude.
Stay hydrated: Drink lots of water to stay healthy and help your body adjust to the higher altitude. Do not drink alcohol or coffee as they make it harder for your body to stay hydrated.
Eat light and nutritious food: When you go to high places, eat food that is easy to digest. Choose healthy foods like fruits, vegetables, and grains. Don't eat heavy or spicy meals.
Consider medication: Talk to your doctor about taking medicine for altitude sickness. Acetazolamide or Diamox is usually used to help with this problem.
Rest when needed: Pay attention to how your body feels. When you are tired or having trouble breathing, take a break and rest.
Gradually increase altitude: When you go camping, you should climb up the mountain slowly. This will give your body time to get used to the new altitude.
Descend to a lower altitude: If you are feeling worse or your symptoms get worse, go to a lower place so your body can feel better.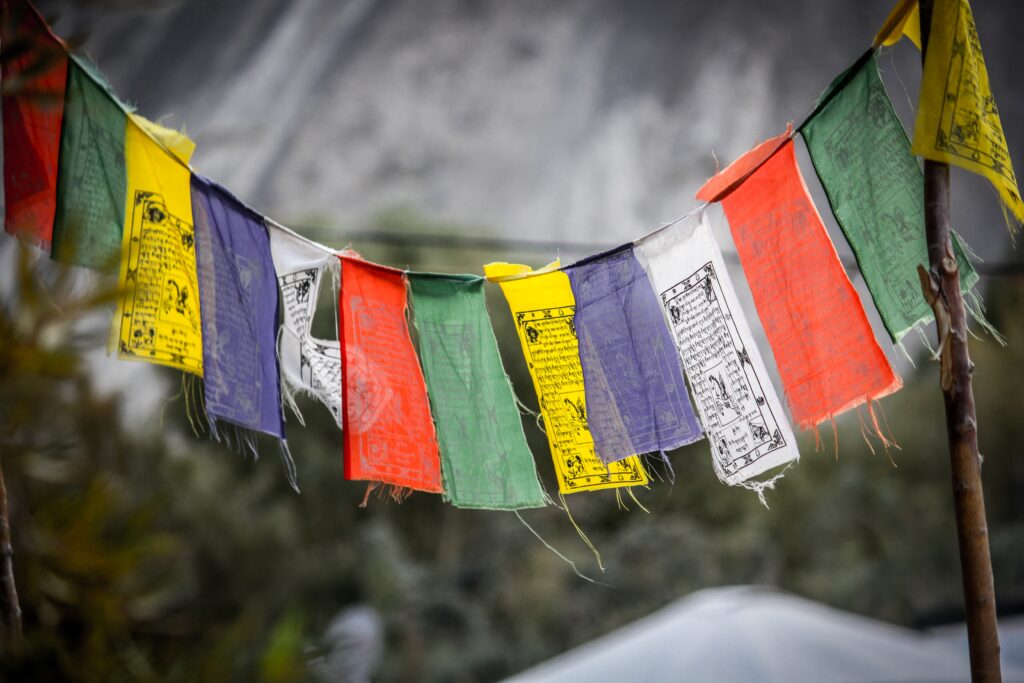 Altitude sickness can make you feel bad. You might have a headache, feel sick or dizzy, have trouble breathing, and be very tired. If you experience any of these things, try to go lower in altitude. Talk to a doctor if you are worried about altitude sickness or your health when camping.
Dealing with emergencies while camping in Leh Ladakh
When camping in Ladakh, it's important to be ready for emergencies. Here are some tips on how to handle them:
Be prepared: Bring a first aid kit, an emergency blanket, a whistle and a flashlight with extra batteries. Learn how to use the items in your kit.
Know the emergency numbers: Write down the phone numbers for the police, ambulance, and rescue services. That way if there is an emergency you can call them right away.
Inform others before travel: Tell someone where you are going camping and when you will be back. This is important in case something bad happens.
Stay calm: If something bad happens, stay calm. Look around to see what needs to be done. Do things that will help keep you safe and stop the bad thing from happening again.
Evacuate if necessary: If something bad is happening and you can't do anything about it, get out as fast as you can and find help.
Follow safety guidelines: When you go camping, make sure to follow the rules and stay safe. Do not do anything that might be dangerous.
Be aware of the weather: Check the weather before and during your trip. It could change quickly, so make sure you are ready for it.
Seek medical attention: If you or someone in your group feels sick while at a high altitude, get help from a doctor right away.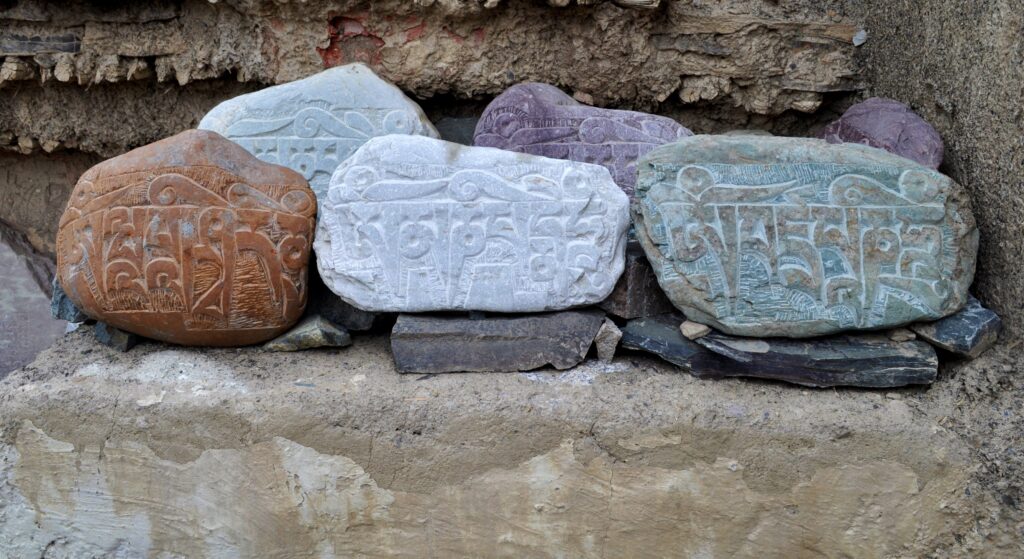 Tips for setting up a comfortable and safe camp
When you go camping in Leh, it is important to make sure your camp is comfortable and safe. Here are some tips to help:
Choose a level ground: When you set up your tent, look for a spot that is flat and even. That way, it will be comfortable and safe to sleep in.
Clear the area: Remove anything from the area that could hurt you or your tent, like rocks, sticks, and sharp objects.
Protect from the wind: When setting up your tent, find a spot where the wind is not blowing. This will make sure that your tent does not move around and get damaged by the wind.
Use a groundsheet: Put a groundsheet under your tent. It will help keep the bottom of the tent dry and protect it from moisture on the ground.
Properly secure the tent: Use stakes or pegs to hold your tent in place. This will make sure the tent won't move or fall down when it is windy.
Set up a kitchen area: Have a special area just for cooking and eating. This will help keep your sleeping area clean and not smell like food.
Store food properly: Put your food in containers that close tightly or in special containers animals can't open. This will keep animals out of your food and keep the camp clean.
Use a campfire pit: If you want to have a campfire, use the special campfire pit. This will help keep the fire from damaging other things and make sure it stays in one place.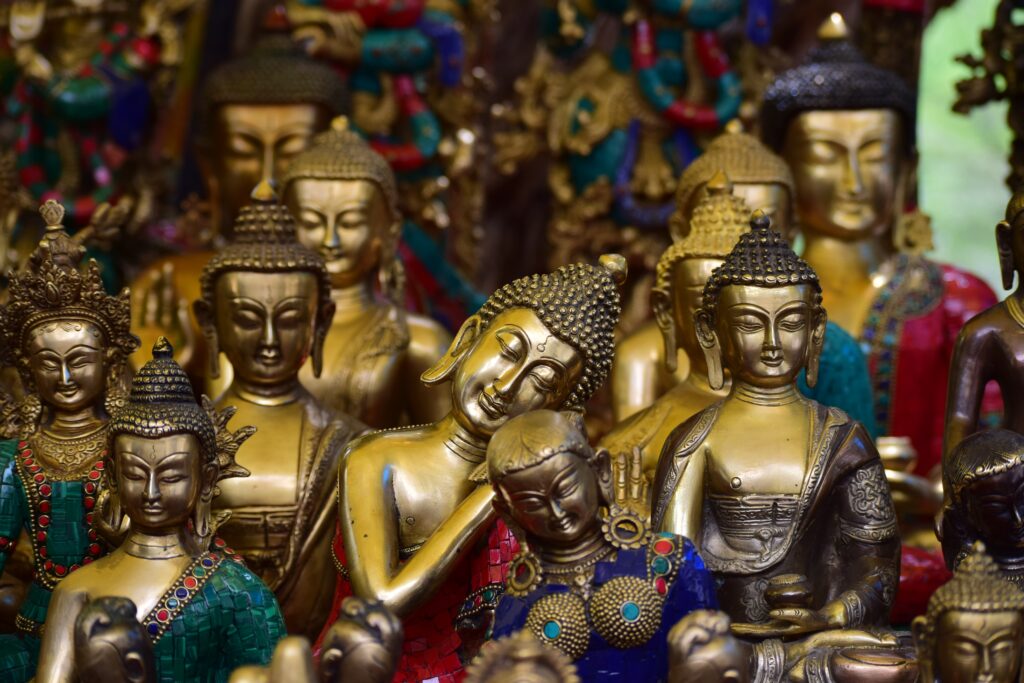 Choosing the right tent and sleeping bags
While camping in Ladakh, it is important to pick the right tent and sleeping bags. Here are some tips to help you make the right choices:
Choose a tent suitable for the weather: Choose a tent for your trip to Ladakh that is good in bad weather. A four-season tent is the best choice because it can handle tough conditions.
Look for durability: Choose a tent made of strong materials and with poles that are sturdy. This will make sure the tent can stay up in windy weather and during rain storms.
Check the size: To ensure that your camping experience is as pleasant and comfortable as possible, be sure to get a tent large enough for you and everyone in your group. Moreover, with more space available inside the larger tent, it will provide ample room to store all of your gear too!
Choose a sleeping bag based on temperature: When you go camping, pick a sleeping bag that is good for the weather in the area. If you are going to Ladakh, it is best to get a four-season sleeping bag.
Check the insulation: When looking for a sleeping bag, get one that will keep you warm on cold nights.
Look for comfort: When buying a sleeping bag, look for one that is comfortable and has enough room to move around. Look for things like hoods, draft tubes, and zipper baffles which will make it even more comfortable.
Check the weight and packability: When you are picking your tent and sleeping bag, think about how heavy they are and if they can be packed down small. The lightweight and small gear is best for backpacking trips.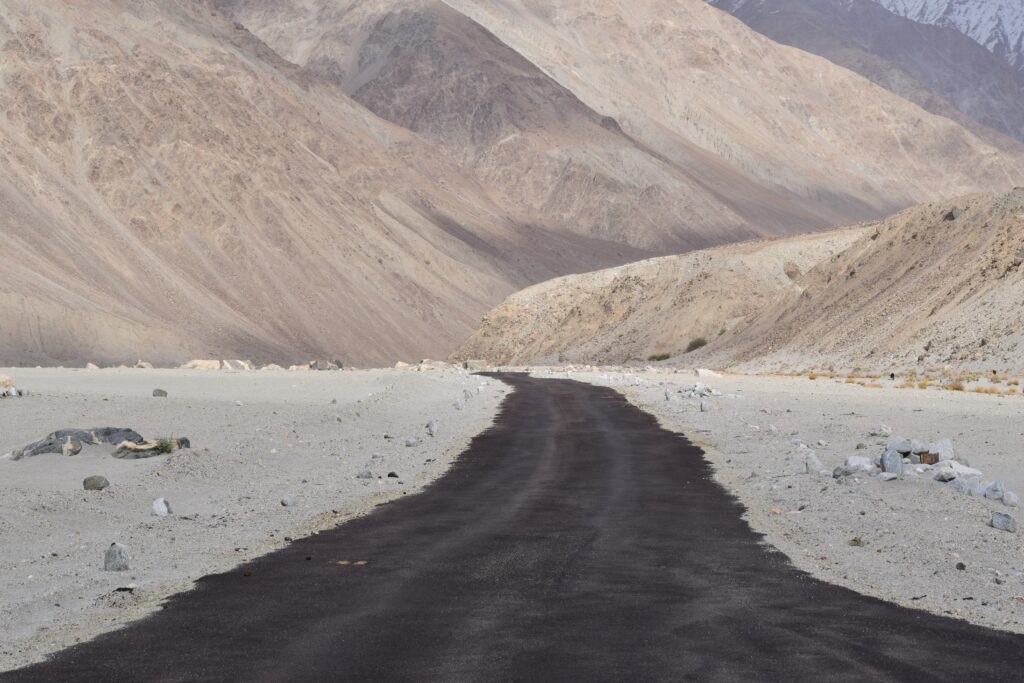 Ideas for easy and delicious meals while camping in Leh Ladakh
While camping in Ladakh, gives a great chance to cook with ingredients from the area. Here are some ideas for yummy meals that are easy to make:
Instant noodles: Instant noodles are a great food to bring camping. You can make it taste better by adding things like vegetables, eggs and spices. It will be delicious!
Grilled cheese sandwiches: Grilled cheese sandwiches are easy to make on a stove or a campfire. You can make them even better by adding vegetables and spices.
Instant oats: Instant oats are a breakfast that can be ready quickly. You can make it tastier by adding fruits, nuts, and spices.
Rice and curry: Rice and curry are popular food in Ladakh. You can buy a special mix of spices to cook with the rice. This makes a tasty and filling meal.
Maggi: Among the favourite snacks of India, Maggi is a beloved type of noodle renowned for its delicious flavour. You can make it tastier and more filling by adding things like vegetables, eggs, and spices.
Pasta with tomato sauce: Pasta with tomato sauce is a simple and satisfying meal. You can make it tastier by adding vegetables, cheese, and spices.
Sandwiches: Sandwiches are simple and delicious meals. You can use bread, cheese, veggies and meat to make them. Yum!
Parathas: Parathas are a type of flatbread eaten in India. You can buy the mix and then cook it over a stove or campfire grill. It is very tasty and filling.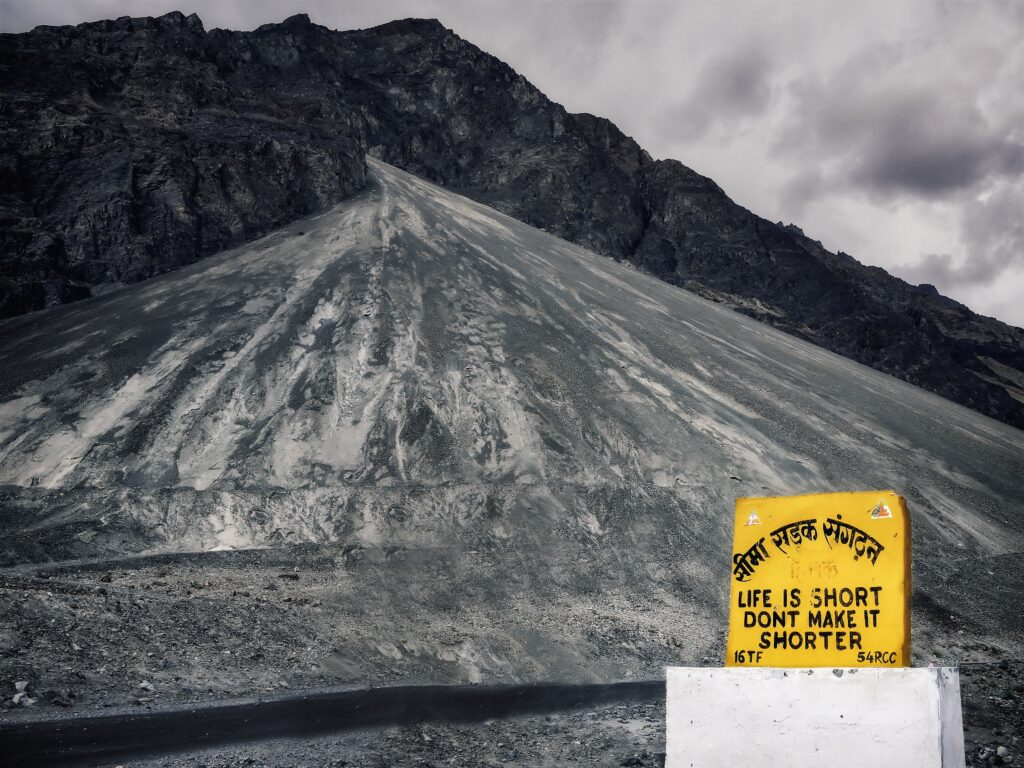 Brief on Responsible camping
Camping in Ladakh is a great way to experience the beauty of nature. But it is important to be aware of how to camp responsibly.
Leave No Trace principles – Leave No Trace is a set of rules for taking care of the environment. It is especially important when visiting fragile places like Ladakh.
While camping in Ladakh, follow these rules:
Plan ahead and prepare
Before you go on your trip, find out more about the area. Bring reusable containers, water bottles that you can fill up, and soap that is good for the environment. This will help reduce waste.
Travel and camp on durable surfaces
When you are outside, stay on the trails and camping areas. Do not set up camp on plants or bother animals. This will help keep the environment safe.
Dispose of waste properly
Take out any garbage, food, or litter. Use the toilet or dig a hole 6-8 inches deep for waste and stay 200 feet away from the water.
Leave what you find
Do not pick flowers or take away rocks or things from nature. Do not touch anything that is part of history.
Respect wildlife
Look at animals from far away. Don't feed them or bother them. Keep your food and trash locked up so animals don't come to get it.
Be considerate of other visitors
Be quiet and don't bother other campers. When you are on the trail, let other hikers go first.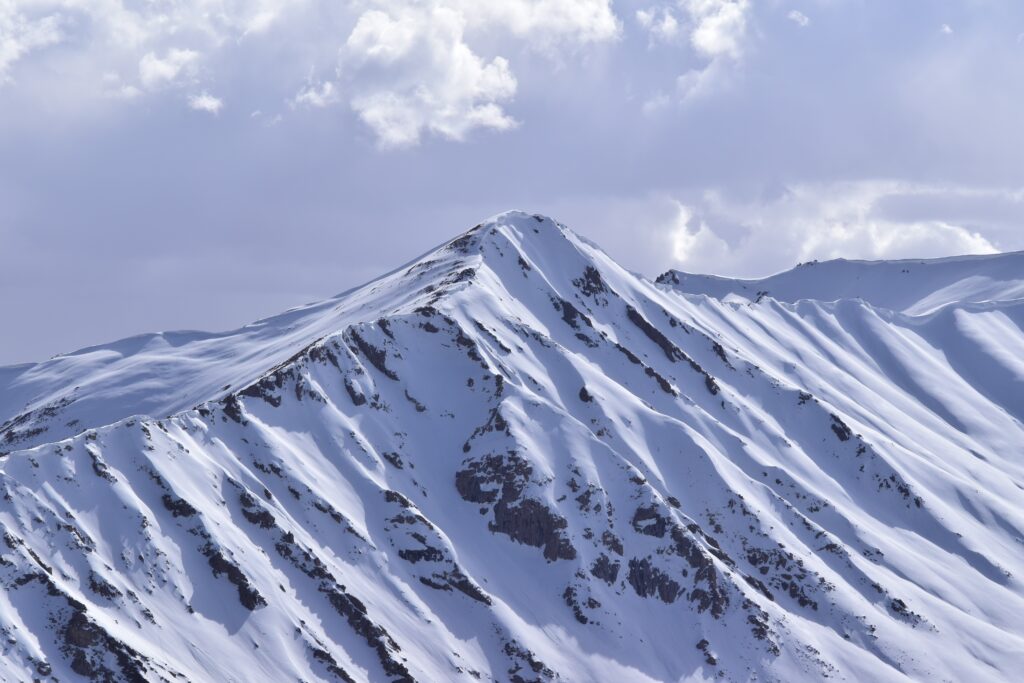 Tips for minimizing your impact on the environment
Camping in Leh can be a lot of fun, but it is important to take care of the environment. Here are some tips for protecting the environment while camping:
Reduce waste: Bring containers you can use again, water bottles you can fill up and soap that won't harm the environment. Take out any trash, leftovers or litter when you leave.
Stick to designated trails and camps: When you are outside, be sure to stay on the trails. Don't set up camp on plants and don't disturb any animals. That way, you can help keep nature safe.
Use established toilets or bury human waste: If there is no toilet, use a shovel to dig a hole 6-8 inches deep. Put human waste in the hole. Make sure the hole is at least 200 feet away from any water sources.
Use sustainable sources of fuel: When camping, use a camp stove instead of building a campfire. Campfires can hurt plants and the homes of animals.
Respect wildlife: Look at animals from far away. Do not give them food or bother them. Put your food and garbage in a safe place so animals won't come to it.
Conserve water: Be careful not to use too much water. Do not put anything bad in the water that comes from lakes or streams. When washing dishes or yourself, only use soap that can break down easily and does not hurt nature.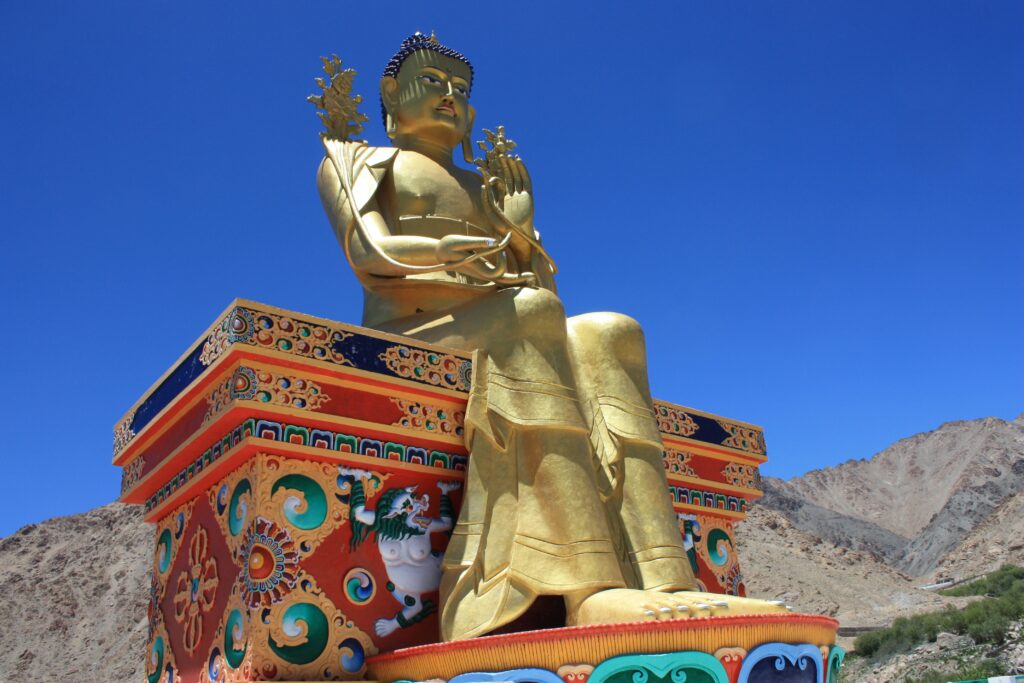 Supporting local communities and businesses
When you are doing Ladakh camping, it is a good idea to help the people and businesses nearby. Here are some ways to do this:
Buy local products
Purchase things made locally. Buy from small businesses like stores that sell crafts and souvenirs. This helps the local economy and keeps traditional crafts alive.
Hire local guides and porters
Hiring people from the local area is good for the economy. It helps give people jobs and make money.
Eat at local restaurants:
Try the food at restaurants and food stalls in the area. This helps local businesses and you get to try tasty food that is special to this place.
Respect local customs and traditions
When you visit another place, be kind and show respect for the area's customs. This means dressing appropriately and understanding religious beliefs. It shows that you appreciate the culture of the local people.
Volunteer with local organizations
Help out with local organizations or do activities in the community. This helps people in Ladakh and lets you learn more about their culture and traditions.
Conclusion
Ladakh is a great place to go camping. You can see beautiful landscapes, do fun activities, and learn about the culture there. This guide will help you plan a safe and fun trip. It includes information like when is the best time to visit, how to get there, what camping rules you need to follow, what gear you need to bring, tips for getting used to the altitude, how to set up your camp in a comfortable way, food that locals eat there, adventure sports available in Leh Ladakh, cultural attractions in the area and how we should treat nature when out camping. Plus it will show you ways that we can help local communities while visiting Leh Ladakh.
Here is what you need to know about camping in Leh Ladakh:
Ladakh has beautiful nature and a special culture that makes it perfect for camping. The best time to go is from May-September when the weather is nice and dry.
You can get to Ladakh by flying or driving from cities in India. You need permits and must follow rules to protect the environment and stay safe when camping. It is important to pick the right camp for a great camping experience.
When camping in Ladakh, it is important to bring the right things like clothes and shoes. You should also get used to the high altitude. Safety is important too.
To stay safe, you should know how to prevent and treat altitude sickness, keep warm and drink lots of water. Also, know what to do if there is an emergency.
When you go camping in Ladakh, it is important to know how to set up the camp, pick a good tent and sleeping bag, and build a campfire.
In Ladakh, people like to explore trails for walking or running, do adventure sports, watch animals in their natural habitats, and learn about the history of the area.
When camping, take care of the environment. Don't leave any mess behind and try to cause as little damage as possible. Also, support local businesses in Ladakh.
Buy products from them, hire guides and porters from there, go to restaurants there, respect their customs and traditions, and volunteer with their organizations. This helps the economy of Leh stay strong.
Now that you have all the information you need, it is time to plan your camping trip to Ladakh. Pack your bags and get ready for an amazing adventure! You will make memories that will last forever!
Additional resources and information for camping in Ladakh
To help you plan your camping trip to Ladakh, here are some additional resources and information:
Ladakh Tourism website
This website provides information about various tourist attractions, adventure sports, accommodations, and travel tips. https://leh.nic.in/tourism/tourist-info/
Ladakh Weather
This website provides up-to-date information on weather conditions in Ladakh, including temperature, precipitation, and wind speed. https://www.accuweather.com/en/in/leh/3592989/weather-forecast/3592989
Indian Mountaineering Foundation
This organization provides information on trekking and mountaineering expeditions in India, including those in the Ladakh region.
India Tourism
This website provides information about tourism in India, including cultural attractions, adventure activities, and travel tips.
Camping in Ladakh Map
This website provides a detailed map of the Ladakh region, which can be helpful in planning your route and choosing camping locations. https://leh.nic.in/about-district/map-of-district/
Trekking and Camping Operators
There are several trekking and camping operators in Ladakh that can provide you with guides, equipment, and other services for your camping trip.
Travel Insurance for Ladakh camping
It is important to have travel insurance that covers medical emergencies, trip cancellations, and other unforeseen events while camping in Ladakh.
Recommended Blogs
1) Nubra Valley
2) Pangong Lake
3) Tso Moriri
5) Camps in Leh
6) Camps in Ladakh