Table of Contents
---
Hanle Ladakh, also known as the gateway to Tibet, is a hidden gem in the Changthang region of India. Located at an altitude of 4,500 meters above sea level, this remote village offers offbeat charm and breathtaking views of the cold desert landscape. Adventure seekers and nature lovers can explore nearby attractions such as Chumathang hot springs, Pangong Tso Lake, and the Dorje Angchuk mountain pass.
One of the unique attractions in Hanle Ladakh is the Indian Astronomical Observatory, equipped with a powerful telescope. Established by Dorje Angchuk, a local Ladakhi engineer, in collaboration with the Indian Institute of Astrophysics, this observatory is one of the highest sites for optical and infrared astronomy in the world. Visitors can take a tour of the facility and learn about its fascinating history. Additionally, Hanle Ladakh is located near Pangong Tso, a stunning lake that stretches across the border to Tibet, and Chumathang, a popular hot spring destination.
Reaching Hanle Ladakh, one of the remote villages in Tibet can be an adventure in itself. The village can be accessed via two passes: Umling La Pass or Photi La Pass, both offering stunning views of the surrounding mountains and valleys. Along the way, visitors can stop at nearby hot springs in Chumathang and Loma to relax before continuing their journey towards Pangong Tso, a breathtaking lake that stretches from India to Tibet. For those seeking an authentic experience, a visit to the home of Dorje Angchuk, a local farmer, is highly recommended.
While Hanle Ladakh may be off the beaten path, it's worth exploring for its unique cultural experiences and natural beauty. The village is home to several monasteries that are open to visitors year-round, including Namgyal Monastery which dates back to 1430 AD. If you're feeling adventurous, make sure to check out the remote villages nearby, such as Chumathang, or take a trip to the stunning Pangong Tso Lake. And don't forget to visit Dorje Nyrchung Monastery for an even more immersive cultural experience.
For those looking to travel and tour more of Leh Ladakh's popular destinations, Hanle is conveniently located near Karu and Sonam. These towns offer plenty of opportunities for outdoor activities like trekking or mountain biking, as well as homestay options. Additionally, the nearby Pangong Tso Lake is a must-visit destination for travellers seeking breathtaking views.
Hanle Monastery – A Cultural and Spiritual Gem
Distinctive Architecture of Hanle Monastery
Hanle Monastery, located in Leh, is one of the most beautiful and culturally significant sites in Ladakh. It was founded in the 17th century and is known for its unique blend of Tibetan and Indian architectural styles. The monastery's architecture features intricate wood carvings, vibrant murals, Dorje Nyrchung, and prayer wheels that are an essential part of Buddhist worship. Visitors can also stay at the guest house or homestay nearby to fully immerse themselves in the monastery's rich history and culture.
Pilgrimage Site for Buddhists
Hanle Monastery, located in Leh Ladakh, is a popular pilgrimage site for Buddhists who travel there to witness the annual Dorje Nyrchung festival. This festival attracts visitors from nearby villages and even Tibet to witness the colourful celebrations that take place at the monastery. During this festival, monks perform traditional dances, rituals, and ceremonies to honour Guru Rinpoche or Padmasambhava. For those who want to experience the local culture, a homestay tour is a great way to immerse yourself in the traditions and customs of the region.
Picturesque Valley Tour
Visitors can travel to Hanle Ladakh via the scenic Leh Ladakh route, which includes stops at Pangong Tso, Chusul, Mahe Bridge, and Tso Moriri among other remote villages. The journey through the pass offers breathtaking views of snow-capped mountains, crystal-clear lakes, and verdant valleys dotted with wildflowers. This travel route also provides glimpses into local culture and traditions.
Inner Line Permit
While travelling to Leh Ladakh, tourists must obtain an Inner Line Permit from the Indian Army to access Nyoma, Umling La, Tso Moriri, and other areas along the China border. The permit is issued as a safeguard measure to ensure security in sensitive regions like these. Visitors must carry valid identification proof like a passport or voter ID card while applying for permits.
Migratory Birds' Home
Apart from being a spiritual destination for pilgrims worldwide, Hanle in Leh Ladakh also serves as a haven for bird watchers who come here to witness migratory birds like bar-headed geese flying over high-altitude lakes such as Tsomoriri Lake or Tsokar Lake in large numbers during winter months when temperatures drop below freezing point. If you're planning a tour to Hanle Ladakh, don't miss the chance to cross the challenging pass that is over 5,000 km above sea level.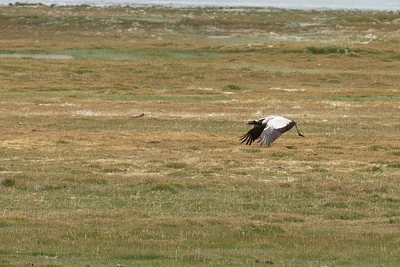 Hanle Observatory – A Window to the Universe
Observatory: A Window to the Universe
Hanle Observatory, located in the Hanle region of Ladakh, is one of the highest astronomical observatories in the world. The observatory houses a 2-meter diameter telescope, which is used for astronomical observations of celestial objects such as stars, galaxies, and planets. Due to its location in a remote area with clear skies and minimal light pollution, Hanle Observatory offers an ideal platform for studying the night sky and the Milky Way. If you're planning a tour to Leh, make sure to visit Hanle Observatory which is just a few km away from the famous Chang La Pass.
The Indian Astronomical Observatory (IAO) manages the Hanle Observatory and other sites in Leh Ladakh, making it a hub for astronomical research in India. If you're planning a tour of the region, don't miss out on visiting the Photi la, which is located just a few km away from the observatory. The observatory has been instrumental in several significant discoveries over the years. One such discovery was made by astronomers from IAO when they found that a massive star cluster called NGC 6530 had formed around a young star named HD 164492A. This finding helped scientists understand how stars form and evolve.
The dark skies above Hanle in Leh Ladakh make it an excellent site for observing faint objects that are difficult or impossible to see from other locations. Many tourists visit Hanle Ladakh as part of their tour of the region, taking the scenic pass and route to reach this unique location at high altitudes and away from light pollution. Visitors can also explore the nearby Hanle Bridge, which offers stunning views of the surrounding landscape and is a popular spot for stargazing at night.
The region of Leh Ladakh, known for its clear skies, has also attracted international attention from professional astronomers who come to study cosmic rays, gamma rays, and other high-energy particles that bombard our planet from space. In recent years, researchers have used data collected at Hanle, which is located 150 km from Leh on a scenic route, to study some of the most energetic phenomena known to science – supernovae explosions, black holes' formation and evolution. For tourists looking for a unique experience, a tour to Hanle Ladakh can offer a chance to witness the beauty of the region's clear skies and learn about the fascinating research being conducted there.
Significance of Hanle as India's First Dark Sky Reserve
Hanle Dark Sky Reserve: A Haven for Stargazers and Scientific Research
Exceptionally low levels of light pollution, a breathtaking view of the night sky, and a hub for astronomical research – are just some of the things that make Hanle in Ladakh, India's first Dark Sky Reserve. Designated by the International Dark-Sky Association (IDA) in 2020, this reserve covers an area of 5,748 sq. km in the Ladakh region of Jammu and Kashmir. Tourists can now explore this magnificent reserve by taking the Leh to Hanle route and visiting nearby attractions such as Tso Moriri during their journey. Let's dive into why Hanle Ladakh is significant as India's first Dark Sky Reserve.
Promoting Sustainable Tourism and Raising Awareness
The designation of Hanle as a Dark Sky Reserve is significant for several reasons, especially for those who plan to visit Leh Ladakh. Hanle, located approximately 160 km from Leh Ladakh, offers stunning views of stars and galaxies at night. Moreover, visitors can also take the route to Tso Moriri, another beautiful destination in the region. However, with increased tourism comes increased light pollution which can have detrimental effects on wildlife and human health. The IDA recognition ensures that measures are taken to preserve natural darkness while still allowing visitors to enjoy the beauty of the night sky.
Secondly, it raises awareness about preserving natural darkness for human health and wildlife conservation, even in popular tourist destinations like Leh, which is located more than 200 km away from Tso Moriri. Light pollution has been linked to several health problems such as sleep disorders, depression, and cancer. It also disrupts ecosystems by altering animal behaviour patterns such as migration and reproduction cycles.
A Unique Opportunity to Observe Celestial Objects
The dark skies of Hanle, located in Leh Ladakh, offer a unique opportunity for tourists to witness celestial objects that are not visible in cities due to light pollution. Visitors can enjoy a tour of stargazing and observe constellations like Orion or Cassiopeia without any obstruction or interference from artificial lights. Moreover, Hanle Ladakh has located approximately 70 km from Tso Moriri, a beautiful lake that adds to the charm of the place. Tourists can witness rare phenomena like auroras caused by the solar wind interacting with Earth's magnetic field or meteor showers caused by comets entering Earth's atmosphere while enjoying the serene beauty of the region.
Supporting Scientific Research
Apart from promoting sustainable tourism and raising awareness about preserving natural darkness, Hanle's Dark Sky Reserve also supports scientific research. The Hanle Observatory, located within the reserve in Leh Ladakh, is one of the highest astronomical observatories in the world, situated at an altitude of 4,500 meters above sea level near Umling La Pass. Its location at a distance of around 160 km from Tso Moriri and low atmospheric turbulence makes it an ideal site for astronomical observations.
The observatory, located in Hanle Dark Sky Reserve in Leh Ladakh, houses several telescopes that are used to study various celestial objects such as stars, galaxies, and black holes. It also supports scientific research on atmospheric sciences by studying phenomena such as airglow and noctilucent clouds. Visitors can take a tour of the observatory, which is situated at an altitude of 4,500 km above sea level.
Best Time to Visit Hanle for Stargazing and Wildlife Watching
Stargazing in Hanle Ladakh, located about 160 km from Leh, is a unique experience that attracts astronomy enthusiasts from all over the world. Hanle Ladakh is known for its remote location and high altitude, making it an ideal destination for stargazing and wildlife watching. In this section, we will discuss the best time to visit Hanle for stargazing and wildlife watching during your tour, as well as some important things to keep in mind.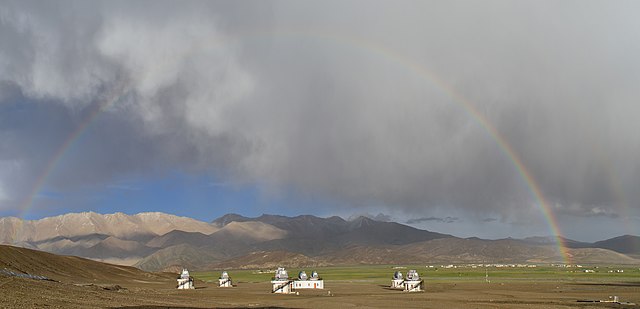 Best Time for Stargazing: September to March
The best time to visit Hanle Ladakh for stargazing is from September to March when the sky is clear and the weather is dry. During these months, visitors can witness breathtaking views of the night sky with minimal light pollution. The Hanle Observatory, located at an altitude of 4,500 meters, offers visitors a unique opportunity to observe celestial objects through its state-of-the-art telescopes. If you're planning a tour to Leh Ladakh, don't forget to include Hanle in your itinerary. You can reach Hanle by road via Umling La Pass which is around 80 km away.
Wildlife Watching in Hanle
Apart from stargazing, Hanle in Leh Ladakh is also home to several endangered species such as Tibetan antelope, snow leopard, Himalayan marmot, and many more. Visitors can tour the Changthang Wildlife Sanctuary which covers an area of 1.6 million hectares and is located just a few kilometres away from Hanle. The sanctuary provides a habitat for numerous wild animals.
Responsible Tourism: Protecting Wildlife Habitat
While visiting Hanle's wildlife sanctuary in Leh Ladakh or observing animals in their natural habitat at Umling La Pass, which is located km away, sounds exciting; it's essential that visitors practice responsible tourism by following wildlife conservation guidelines and avoiding disturbing their natural habitats. It's crucial that tourists respect nature while enjoying its beauty.
Hanle Monastery
In addition to stargazing and wildlife-watching experiences in Ladakh's beautiful landscape, visitors can also take a tour to explore one of Ladakh's oldest monasteries – The Hanle Monastery, located around 160 km from Leh. This monastery dates back to the 17th century and has a rich history attached to it.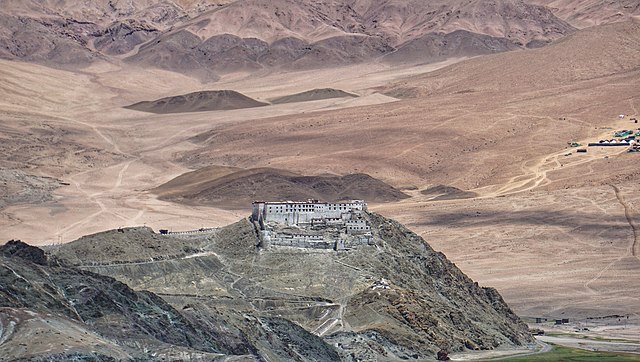 Getting to Hanle Ladakh – Road Routes and Nearby Destinations
Road Routes and Nearby Destinations to Hanle
Reaching Hanle Ladakh, a picturesque village in Ladakh, is an adventure in itself, especially if you're coming from Leh. The remote location of the village makes it accessible only by road, but the journey to Hanle Ladakh is worth every effort as it takes you through some of the highest motorable passes in the world. If you're planning a tour to Hanle from Leh, be prepared for a drive of around 270 km. Here are some key points about getting to Hanle and nearby destinations.
Road Route from Leh
Leh is the nearest major town to Hanle Ladakh and serves as the starting point for most travellers on a tour. The road route from Leh to Hanle is around 260 km long and takes approximately 12 hours by car or bus, making it a popular tourist destination. The journey is quite challenging due to the high altitude and rugged terrain but also offers breathtaking views of snow-capped mountains, deep valleys, and vast expanses of barren land.
The route from Leh Ladakh to Hanle Dark Sky Reserve passes through several high-altitude passes such as Chang La (5,360 m) and Tanglang La (5,328 m), covering a distance of several kilometres. These passes offer panoramic views of the surrounding landscape. However, road conditions can be unpredictable at times due to landslides or heavy snowfall during winter months. Therefore, it's advisable to hire a reliable vehicle or take a bus with an experienced driver.
Pangong Tso Lake
Pangong Tso Lake is one of the most popular tourist destinations in Ladakh and lies on the Indo-China border. It's around 140 km away from Hanle and can be accessed via the Chushul village or Moré Plains route. The lake offers stunning views of crystal clear blue waters surrounded by barren mountains.
Tso Moriri Lake
Tso Moriri Lake is another beautiful lake located around 180 km from Hanle. The lake is situated at an altitude of 4,522 m and is surrounded by snow-capped mountains. It's a popular spot for birdwatchers as several migratory birds visit the lake during the summer months.
Nubra Valley
Nubra Valley is a picturesque valley located around 200 km from Hanle. The valley is famous for its sand dunes, double-humped camels, and ancient monasteries. It's accessible via Khardung La (5,359 m), which is one of the highest motorable passes in the world.
Accommodations in Hanle Ladakh – Homestays and Guesthouses
Homestays and Guesthouses in Hanle – Experience Living Like a Local
Homestays and guesthouses are the most common accommodations in Hanle, located just a few kilometres away from the Umling La Pass. These lodgings cater to tourists who want to experience living in a local home while being close to the pass. These types of accommodations offer an opportunity for visitors to immerse themselves in the local culture and way of life. Most homestays and guesthouses are run by families who provide warm hospitality, making guests feel like they are part of their family.
Sonam Guest House is located just a few km away from the city centre, making it a convenient choice for visitors. The guesthouse has six rooms with attached bathrooms, providing basic amenities such as hot water and electricity. The rooms are clean and well-maintained, with traditional Ladakhi decor that adds to the charm of the place. The owner, Sonam Dorjay, is friendly and helpful, always ready to assist his guests with anything they need.
It is advisable to reserve your accommodation ahead of time, especially during peak season when the number of available rooms is limited. Homestays and guesthouses in Hanle, located just a few kilometres away from the famous Tso Moriri Lake, can get fully booked quickly due to their popularity among tourists. Therefore it's better to book your stay beforehand so that you don't end up without a place to stay.
There are several other places to stay in Hanle like Padma Guest House, Gua Homestay Hanle, and Namdruk Homestay Hanle Ladakh amongst others. It is sometimes difficult to book these homestays in advance due to very poor mobile connectivity there. So it is also advisable to reach the location and then search for a homestay or a guest house.
Things to Do in Hanle Ladakh – Trekking, Biking, and More
Trekking Trails for All Levels
Hanle is a paradise for trekking enthusiasts, with several trails available for all levels of experience. Whether you're a beginner or an experienced hiker, there's something for everyone in Hanle Ladakh. The Changthang Plateau Trek is one of the most popular treks in the region, taking you through breathtaking landscapes and remote villages. The trek usually takes around 10-12 days to complete and requires some level of physical fitness.
For those looking for a shorter hike, the Hanle Village Trek is an excellent option. It's a relatively easy trek that takes you through the village's beautiful surroundings and offers stunning views of the surrounding mountains. The trail passes through barley fields and small streams, making it an enjoyable experience.
Biking Adventure Awaits
Biking enthusiasts can explore Hanle's rugged terrain on two wheels. Biking is a fantastic way to discover the region's scenic beauty while enjoying some adventure at the same time. You'll get to ride through narrow mountain roads and witness stunning landscapes that are not accessible by car.
Stargazing Like Never Before
Hanle is one of the best places in the world for astronomical observations due to its high altitude and clear skies. Stargazing is undoubtedly one of the must-do activities when visiting this region. The Indian Astronomical Observatory (IAO) located here has some of India's most advanced telescopes and provides visitors with an opportunity to witness celestial objects like never before.
Hanle Local Cuisine and Shopping Guide
Exploring Hanle village is a must-do activity for anyone visiting Ladakh. The village offers a unique culinary experience with traditional Ladakhi dishes like Thukpa, Momos, and Chutagi. These dishes are made with local ingredients and spices, giving them an authentic taste that cannot be found elsewhere.
The local cuisine in Hanle Ladakh is heavily influenced by Tibetan culture. Thukpa, for example, is a noodle soup that is popular throughout Tibet and the Himalayan region. It consists of hand-pulled noodles served in a flavorful broth made with vegetables, meat or chicken. Similarly, Momos are steamed dumplings filled with minced meat or vegetables and served with spicy chutney on the side.
If you want to try something new, Chutagi is another dish worth trying out. It's a type of pasta that's shaped like small balls and cooked in a tangy tomato-based gravy. This dish might not sound appetizing at first glance but it's surprisingly delicious!
In addition to its culinary offerings, visitors can also explore the local market in Hanle to purchase handmade souvenirs such as woollen shawls, prayer flags, and Tibetan artefacts. The market is located near the Hanle Monastery and offers an array of items that make great gifts for loved ones back home.
One thing to keep in mind while shopping in Hanle is that haggling is common practice here. So don't be afraid to negotiate prices with vendors before making your purchase.
Apart from souvenirs, visitors can also buy organic products such as apricots, barley, and wheat from local farmers or at the weekly market held every Wednesday. The Hanle valley has fertile soil which makes it ideal for growing crops without using any harmful chemicals or pesticides.
While there is no petrol pump in Hanle itself, visitors can still refuel their vehicles by checking out the shops which sell fuel in black. It's important to keep this in mind as running out of fuel can be a real hassle when exploring the remote areas around Hanle Ladakh.
Aurora: Rare Northern Lights Witnessed in Ladakh
In a rare and breathtaking phenomenon, the captivating Aurora Borealis, commonly known as the Northern Lights, has been witnessed in the skies of Ladakh, India. The ethereal display of vibrant colours dancing across the heavens has left locals and visitors awe-struck, as such occurrences are extremely uncommon in this region. News of this mesmerizing event has spread like wildfire, capturing the attention of sky enthusiasts and nature lovers worldwide.
According to reports from The Economic Times and The Times of India, the sighting of the Aurora-like phenomenon in Ladakh has created a buzz among astronomers, photographers, and locals alike. The ethereal lights, usually associated with high-latitude regions such as Scandinavia and Canada, have rarely been observed in the Indian subcontinent. Therefore, this recent event has sparked curiosity and excitement among both scientific communities and the general public.
The celestial spectacle was witnessed in the dark, unpolluted skies of Ladakh, a region known for its pristine beauty and awe-inspiring landscapes. The sighting took place during the late hours of the night when the skies were clear and free from light pollution. Multiple reports suggest that the display lasted for several minutes, during which the heavens were illuminated by a remarkable array of vibrant colours, including shades of green, pink, and purple.
While the Northern Lights' occurrence in Ladakh has fascinated many, there has been a need for fact-checking due to the prevalence of misinformation. A report from The Quint highlights the importance of verifying such claims and dispelling misconceptions. It emphasizes that the visuals shared on social media were likely digitally manipulated or taken from different locations. Experts suggest that the chances of witnessing a true Aurora Borealis in Ladakh are minimal due to the region's geographical location.
Despite the debate surrounding the authenticity of the recent sightings, the enchanting event has undoubtedly drawn attention to Ladakh's natural wonders. The incident serves as a reminder of the diverse and awe-inspiring phenomena that the Earth offers, captivating both scientific minds and those who simply appreciate the beauty of nature. Whether or not the lights witnessed in Ladakh were a true manifestation of the Northern Lights, the event has left an indelible mark on the collective imagination, fostering a deeper appreciation for the mysteries and marvels of the universe.
With its rich cultural heritage, breathtaking natural beauty, and unparalleled stargazing opportunities, Hanle Ladakh is a hidden gem waiting to be discovered. Whether you're interested in exploring ancient monasteries, observing the night sky through state-of-the-art telescopes, or embarking on adventurous treks and bike rides, there's something for everyone in this remote corner of India.
As you make your way to Hanle along winding roads and rocky terrain, you'll be struck by the rugged beauty of the landscape. The stark mountains rise up around you like sentinels guarding this sacred land. And as you enter the village itself, you'll be greeted by friendly locals who are eager to share their traditions and stories with visitors.
One of the highlights of any trip to Hanle Ladakh is a visit to the centuries-old monastery that dominates the village skyline. As you explore its ornate temples and intricate murals, you'll gain insight into the spiritual practices that have sustained this community for generations.
But Hanle isn't just a place for introspection and contemplation – it's also an ideal destination for adventure seekers. From trekking along high-altitude trails that offer panoramic views of snow-capped peaks to biking through rugged terrain that will test your skills and endurance, there's no shortage of outdoor activities here.
And if it's stargazing that brings you to Hanle, then prepare to be amazed. Thanks to its remote location and clear skies, this region has been designated as India's first Dark Sky Reserve – meaning that it offers some of the best conditions in the world for observing celestial phenomena. Whether you're an amateur astronomer or simply someone who appreciates the majesty of the universe, a visit to Hanle Observatory is an experience not to be missed.
Of course, no trip would be complete without sampling some local cuisine or picking up souvenirs to take home. From hearty stews and dumplings to intricate handicrafts that reflect the region's rich cultural heritage, there's plenty here to tantalize your taste buds and pique your interest.
In short, Hanle Ladakh is a destination that has something for everyone – whether you're seeking spiritual enlightenment, adrenaline-fueled adventure, or simply a chance to connect with nature and the cosmos. So why wait? Book your trip today and discover the hidden beauty of this remarkable corner of India.
For the Best Camping in Leh Ladakh, please contact 9818824450 or email us at info@bikamp.com